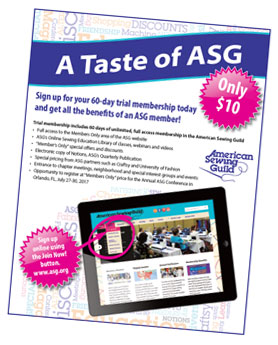 Have  you thought about joining the American Sewing Guild but wanted a "test drive" first? Here's your chance! ASG is providing a limited time offer: Sign up for a 60-day Trial "Taste of ASG" Membership for only $10! You can get a full 60-day unlimited access to everything ASG has to offer.
Trial Membership Flyer (pdf)
Trial Membership Flyer  (jpg)
Full access to the Members Only area of the ASG website
ASG's Online Sewing Education Library of classes, webinars and videos
Member's Only special offers and discounts
Electronic copy of Notions, ASG's Quarterly Publication
Special pricing from ASG partners such as Craftsy and University of Fashion
Entrance to chapter meetings, neighborhood and special interest groups and events
Opportunity to register at Members Only price for the Annual ASG Conference in Orlando, FL, July 27-30, 2017
Don't miss this opportunity to try out ASG. Get started now!
Go to our Join Now page, fill out your information and choose "Trial Membership."