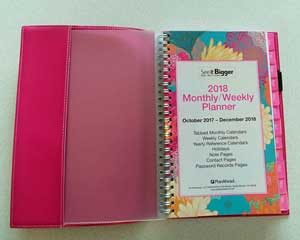 Happy 2018! It's a new year, which means a lot of new opportunities…doesn't it make you wonder how this year will unfold and what new experiences are awaiting you?
At the end of every year I purchase a new calendar. To me it is like starting with a whole new slate. Any personal sewing project that have gone undone is past, and it is time to get back on track and gather the inspiration to move on. No matter the good intentions, there are always UFOs, aren't there?
I know a lot of people keep everything on their computer. I still happen to like a physical calendar. It sits on my table and I'll pick it up and notate what I need to do, need to remember, and everything is written in pencil so that I can erase, re-arrange, and keep things on track. I do keep many things on my smart phone, too, with reminders that chime to remind me of things upcoming or things that need urgent attention—like contacting our tax accountant with questions.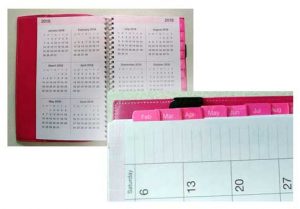 Right at the front is the whole new year laid out. As I glance at these pages, it reminds me of how fast last year whizzed by and I'm pretty confident this year will go as fast, too. All in all, 2017 was a pretty dog-gone good year.  Each month in my new calendar is tabbed for easy access. I like this so as I get calls for speaking engagements I can be on the phone with a chapter president or events chair, or if our Executive Director calls I can quickly do some planning with her. I like to quickly flip to the month to see what is already planned and dates that are available.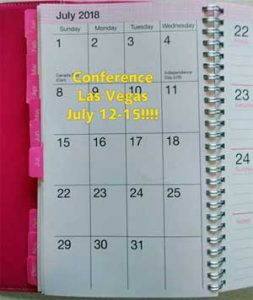 One of the first things I put in my new calendar every year is the ASG Annual Conference which takes place this year in Las Vegas July 12-15. If you haven't done so already, you should start planning. This is going to be a highlight year as we celebrate a milestone. Planning for this conference began over two years ago and as the time nears, HQ will be finalizing instructors' schedules and room assignments for them, getting all the paperwork in order, and in the spring getting the schedule and registration up on the website. Right now, all may do hotel room reservations. In case you don't know, conference is not limited to just members—any person interested in sewing may attend! Trust me, our Annual Conference never disappoints!
It's a new year, a new month, and the first work week of 2018. It's time to start planning my work life and my personal life in this new calendar. There are a lot of blank pages waiting to be written. I am anxious to see what exciting things 2018 holds for the American Sewing Guild.
Until next time…enjoy the journey of sewing!
~Ramona