The following awards were presented during the ASG Annual Conference
Chapter Awards
2017
Chapter Website
of the Year
Plano, TX Chapter
2017
Chapter Newsletter
of the Year
Madison, WI Chapter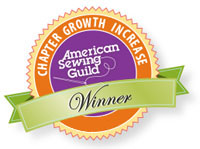 2017
Chapter Growth
Increase Award
Macon, GA Chapter
---

Spirit Award
The ASG Spirit Award recognizes a member or group who exemplifies the spirit of ASG.
This spirit is creative energy, imagination, enthusiasm, inspiration, commitment, organizational pride and loyalty. This spirit is embodied in and focused on the ASG mission – "Advancing sewing as an art and life skill." The member or group exemplifies these attributes and uses them to fulfill the ASG mission, such as creating opportunities for others through sewing education and arts and raising awareness of the ASG in the process.
2017 Spirit Award Winner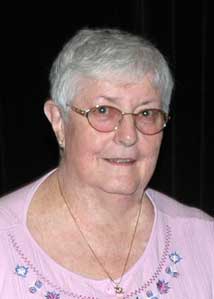 The recipient of the 2017 ASG Spirit Award is Mary Ann Sheppard. In 2006, Mary Ann suggested that the Titusville/Space Coast, Fla. Chapter take on the challenge of creating Wish Pillowcases for Give Kids the World Village (www.gktw.org). Give Kids the World Village is a nonprofit resort that provides cost-free, week-long vacations to children with life threatening illnesses and their families. Approximately 21,000 Wish pillowcases are given away each year to visiting children.
The original instructions for the project made one pillowcase at a time. Mary Ann came up with the way to work production, four pillowcases at a time. Under her guidance, a group of members known as the Sewing Angels were organized and work every Tuesday to meet their commitment of 6,000 pillowcases a year. In both 2006 and 2011, the chapter donated 10,000 pillowcases; 2013 was the banner year, with 11,885 pillowcases. To date, under Mary Ann's watch, the Sewing Angels have completed approximately 85,000 pillowcases. As she accepted the award at ASG Conference, Mary Ann declared, "It wasn't just me! It was all of the Sewing Angels!" In their latest newsletter, the Titusville/Space Coast Chapter responded, "We agree, the Sewing Angels are a big part of it, but Mary Ann, without you there would not be any Sewing Angels, pillowcases, or tours. You are the guiding spirit."