Notions Magazine is ASG's members-only publication. Members receive a printed copy by mail four times a year and may also read it online in the Member's Only area.
Stay up to date with exclusive articles from the industry's leading sewing experts; read messages from ASG's Board and National Headquarters; learn about chapter activities from around the country, enjoy information about the latest sewing products and books, and get a list of upcoming chapters events. Notions also carries advertising from leading industry companies, many of whom offer special discounts to ASG members. It's chock full of everything sewers love!
Read samples of a few of the articles you have been missing!
---
---
Winter 2017 Issue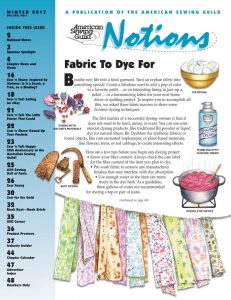 Fabric To Dye For
Sew 'n Share: Is it a Seam, a Trim, or a Binding?
Sew 'n Share: Round Up Your Pockets
Sew 'n Tell: Selling on eBay
Sew 'n Tell: The Little Poster That Could
Sew 'n Tell: Happy 20th Anniversary to the Australian Sewing Guild!
ASG Sewing Hall of Fame: Mary Brooks Picken
Sew Young: American's Got (Sewing) Talent! and The Lex Bear Project
Sew for the Gold: ASG Winner of American Sewing Expo Passion for Fashion
Industry Insider: ASDP Lifetime Achievement Award and American Sewing Expo Teacher of the Year
and more!
Join now to get your copy!