Notions is ASG's members-only publication that is published four times a year.
Summer 2018 Issue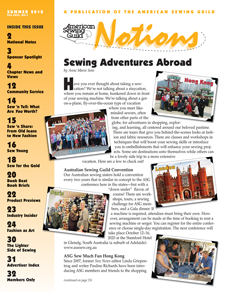 Sewing Adventures Abroad
Community Service: Anti-Ouch Pouch 18 in '18, Duffel Bag Project, Port Pillows
From Old Jeans to New Fashion
What Are You Worth?
Sew Young: Keep Sewing Lines Open, Kids Sew Too
Sew for the Gold: ASG Winners of Threads/ASDP Challenge and Power Sewing Challenge
Industry Insider: Two Sewing Hall of Fame Members Combine, What Is Silk Cady?
Fashion as Art: The Hepburn Look, Fashion and Catholicism
The Lighter Side of Sewing
Members Only: Be a Beta Tester, ASG Sew Much Fun Tours
and more!
Stay up to date with exclusive articles from the industry's leading sewing experts; read messages from ASG's Board and National Headquarters; learn about chapter activities from around the country; and enjoy information about the latest sewing products and books. Notions also carries advertising from leading industry companies, many of whom offer special discounts to ASG members. It's chock full of everything sewers love!
---
---
Read samples of a few of the articles you have been missing!
Join now to get your copy!