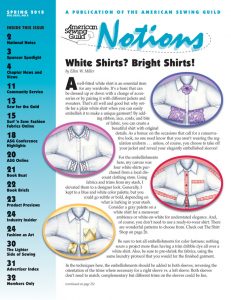 Does a white shirt have to be boring? No way! And certainly not according to ASG member Ellen Miller, author of this issue's cover story as well as of the new book, "Creating Couture Embellishment." Ellen turned her talents to four basic store-bought shirts, but her ideas would work equally well on a variety of shirts-to-sew. And they don't require purchasing lots of supplies. These ideas can be executed using bit of fabric and trims that reside in your stash.
And speaking of stashes, what do you do when your fabric stash doesn't yield what you want for your next sewing project . . . and your go-to fashion fabric store has disappeared? To solve this dilemma, our Surf 'n Sew: Fashion Fabrics Online article contains a comprehensive list of on-the-web sources for fashion fabrics.
This spring, ASG offers its members two wonderful contests. They are fun to enter, but don't require any particular sewing skill to win.
The first is the ASG Fabric Design Contest-Part 2. In 2017, we had a contest to design a fabric using the ASG logo. Now Part 2 involves using the winning ASG fabric to create item(s) of your choice. The chapter with the most entries relative to its size will be deemed the winner and announced at ASG Conference 2018 in Las Vegas. That chapter receive a free educational event the chapter will be able to schedule within 10 months. Individuals will also be recognized for their efforts. To that end, the names of everyone who makes a submission will be put into a drawing which will be held at the annual conference in Las Vegas. Deadline to submit online entries is May 31, 2018.
The second contest is ASG's Anyone Can Win Contest. For this one, ASG members can create a garment using one of this year's designated ASG Simplicity patterns, take a photo, upload it to the ASG website and fill out the entry form. There are two categories of winners: ASG members "over 18" and sewers age 18 and under. The latter must either be an ASG Junior Member or sponsored by an ASG member. Winners are selected electronically at random. Deadline for entries is July 1, 2018.
More details for both these contests can be found in the Members Only area.
If you have comments about what appears in Notions, topics you would like to see covered, were inspired on your sewing journey by something you read in our magazine, or have an idea for an article you might like to write, I'd love to hear from you.
If you are reading this and you aren't an ASG member, consider joining us. Complete information regarding membership can be found under the Join Us tab.
Guest post by Anne Marie Soto, editor of Notions, the ASG publication available with membership in the American Sewing Guild.