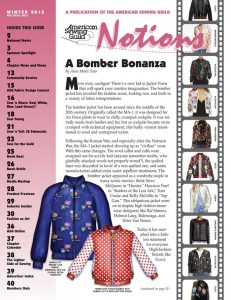 Our cover story, "A Bomber Bonanza," explores the many fashion options offered by this formerly utilitarian jacket.  It's showing up in so many interesting fabrications and with all sorts of embellishments. It also presents a new canvas for wearable art techniques. And because we are seeing it in everything from fake fur to organza, it's a seasonless silhouette. We hope the article will inspire you to do something fun and fabulous . . . and perhaps send us a photo of what you've accomplished.
ASG members don't just sew for themselves. They use their skills to help make the world a better place. In our new Community Service section, you can read about chapters who have made:
Backpacks and blankets (Richmond/Central Virginia Chapter)
Medical play dolls (Oklahoma City, Okla. Chapter)
Hospice gowns (Wichita, Kan. Chapter)
Shirt protectors for veterans (Willamette Valley, Ore. Chapter)
These four stories are just a few examples of the generous outpouring of time and talent by chapters around the country.
ASG welcomes new sewers, veteran sewers, and all skill levels in between. Our Junior Members (through age 17 and extending up to age 22 for registered college students) are particularly important to us because they are the future of our beloved hobby.
In our Sew Young section, we are introducing Sewing Stories, a capsule look at the accomplishments of these young sewers. In this issue, we meet Eileen, whose sewing endeavors include clown outfits for her alter-egos, Silly Sally and Harpa, and Kerri, who created a very cool dress from a band uniform. It was a challenge project for her theater class that earned her a well-deserved A.
It's always fun to get the spouse's perspective on sewing. Two gentlemen have contributed articles to this issue: Chris Cippel documented his wife's adventure making a quilt out of scraps from 38 swimsuits and Rich Wehrman is this issue's Lighter Side contributor, with "Confessions of an S.O.S. (Spouse of Sewer)." Fun reads, both!
If you have comments about what appears in Notions, topics you would like to see covered, were inspired on your sewing journey by something you read in our magazine, or have an idea for an article you might like to write, I'd love to hear from you. E-mail me at .
If you are reading this and you aren't an ASG member, consider joining us. Complete information regarding membership can be found here.
Guest post by Anne Marie Soto, editor of Notions, the ASG publication available with membership in the American Sewing Guild.