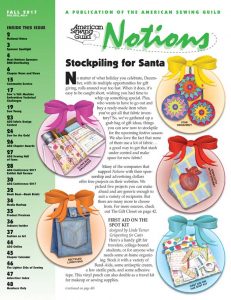 With the holiday season fast approaching, gift-sewing is on many minds. Our cover story, "Stockpiling for Santa," includes directions for five gifts to make that are suitable for male and female, and appeal to a variety of ages. These are grab-and-go gifts that can be made with a particular recipient in mind or stashed away for a last-minute gift-giving occasion. And if this year's festive season is already getting away from you, revisit this article once the holidays are over to get a jump start on next year!
ASG members are unfailingly generous in donating their time and talents to sewing for charitable organizations. In "National Notes," ASG Executive Director Margo Martin talks about these many endeavors and urges chapters to spread the word about the good deeds they do. Don't be shy! The goal is to tell our stories about the youth, the seniors, the servicemen, the countless organizations and individuals who have been touched by ASG members who put their skills and passion to good use. In this issue, you can read about the Salt Lake City, Utah Chapter, who made medical dolls, gowns, and pajamas for their local children's hospital, Primary Children's Medical Center, and the Richmond/Central Virginia Chapter, whose Fashion Focus Neighborhood Group made backpacks for the Children's Home Society of Virginia. Also showcased is Mary Ann Sheppard, the winner of the 2017 ASG Spirit Award. Mary Ann was the guiding force behind the 85,000 pillowcases (yes, you read that number correctly!) the Titusville/Space Coast Florida Chapter has made and donated to Give the Kids the World Village over the past 11 years. Give the Kids the World Village is a non-profit resort that provides cost-free, week-long vacations to children with life-threatening illnesses and their families.
Watch for some changes in Notions in the coming issues. In a recent survey of ASG members, 96% of respondents said they thought the magazine was either "good" or "excellent." We are very proud of that but that doesn't mean we plan to sit on our laurels! A few changes in this issue: a special section that focuses on community service outreach by our chapters; "Fashion as Art," which highlights relevant exhibits in museums around the world; and "The Lighter Side of Sewing," which is a humorous look at our sewing adventures.
If you have comments about what appears in Notions, topics you would like to see covered, were inspired on your sewing journey by something you read in our magazine, or have an idea for an article you might like to write, I'd love to hear from you. E-mail me at .
Guest post by Anne Marie Soto, editor of Notions, the ASG publication available with membership in the American Sewing Guild