Guest post by Anne Marie Soto, editor of Notions, the ASG publication available with membership in the American Sewing Guild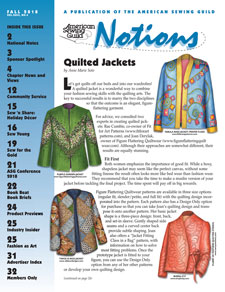 ASG members are intrigued by all things having to do with fabric. Those who started out as garment sewers occasionally delve into the art of quilting while, for others, it was quilting that first drew them to sewing and ultimately to ASG. So why not combine both these interests to create a gorgeous, figure-flattering quilted garment? Our "Quilted Jackets" cover story draws on the expertise of two talented women—Rae Cumbie, co-owner of Fit for Art Patterns, and Joan Derylak, owner of Figure Flattering Quiltwear. With their guidance, a beautiful addition to your wardrobe will be yours for the sewing!
ASG's annual conference is always enervating, educational, and exciting. ASG Conference 2018 in Las Vegas was no exception. The Fall issue of Notions is full of conference coverage, from a photo spread of the activities (classes, exhibit hall, member fashion show, ASG 40th birthday celebration, keynote speaker, and more) to information about this year's award winners (Community Service, Sewing Hall of Fame, Chapter Growth Award). Check it out. ASG Conference 2019 is August 1-4 in the Greater Boston area. Come join us!!!
"Sewing Builds Generations of Memories" was the theme for this year's National Sewing Month. As the perfect follow-up, this issue's Sew Young stories are about three young people who came to sewing—and to ASG—courtesy of previous generations. And our two 18-and-under winners in the Anyone Can Win Contest are nine-year-old Isabel and ten-year-old Gabrielle, both mentored by their grandmothers—more generations building sewing memories! Both the Adult and Junior winners are profiled in the Sew for the Gold section. To see all the entries in this year's contest, log in to the Members Only area and click on Contest Information for Members. And, yes, we will be doing the contest again for 2019. Details will be published in the Winter '19 issue of Notions.
If you have comments about what appears in Notions, topics you would like to see covered, were inspired on your sewing journey by something you read in our magazine or have an idea for an article you might like to write, I'd love to hear from you. E-mail me at .
If you aren't an ASG member, consider joining us! You'll find more information about ASG under the Join Now tab in the menu.