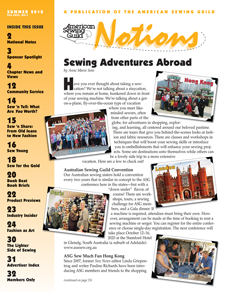 Last summer, I was fortunate to spend some time in Estonia, where I attended Craft Camp, a multi-day exploration of Estonian crafts. There I met sewers and fiber artists from around the world. Our shared passion created some instant bonding! This wonderful experience was the inspiration for the cover story in the latest issue of Notions: "Sewing Adventures Abroad." If your time and budget allow, we've gathered a dozen options to explore that will take you to far-flung places.
No matter where your travels take you, check out the "Fashion as Art" feature that now appears in every issue of Notions. It focuses on museum exhibits both in the U.S. and abroad that showcase fashion and textiles as art forms.
I recently found an Internet meme that said, "Too much fabric? I think the phrase you're looking for is 'too small sewing room.'" So many of us have sewing areas that are overflowing with fabrics, patterns, and notions. What will happen to all that "stuff" when we're gone? Richmond, Virginia Chapter member Diane Portwood wrote a moving Sew 'n Tell: "What Are You Worth?" It documents how fellow member Louise Spearman made provisions for her extensive sewing stash to benefit others after she was gone. A sale of her sewing/embroidery machines covered her final expenses. In addition, Louise left a significant amount of her treasures to the Richmond Chapter, which has held sales and raffles. The money raised was seed money for a Camp/Scholarship Endowment Fund that, each year, sends several young people to 4-H camp where there are sewing classes. An inspiring "pass it on" story!
Did you watch the royal wedding, hear the fabric in Megan Markle's gown described as silk cady, and had no clue what that was? Check out page 23 to solve the mystery.
In "The Lighter Side of Sewing," member-at-large Anna Marie Moran reminisces about the buffalo plaid maxi coat that delighted her as a young girl. She held onto it for years, planning to use her acquired sewing skills to repurpose it. Alas, knowledge doesn't always breed success, but we hope her story brings back happy memories of a garment that made you feel special.
If you have comments about what appears in Notions, topics you would like to see covered, were inspired on your sewing journey by something you read in our magazine, or have an idea for an article you might like to write, I'd love to hear from you.
If you are reading this and you aren't an ASG member, consider joining us. Complete information regarding membership can be found under the Join Us tab on www.asg.org.
Guest post by Anne Marie Soto, editor of Notions, the ASG publication available with membership in the American Sewing Guild.