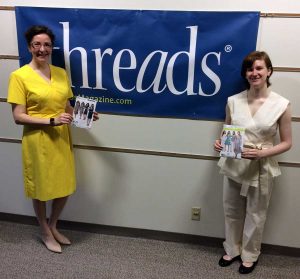 The American Sewing Guild's annual conference is always a blast. Every time I attend, I enjoy classes, shopping, the fashion show, the keynote address, and all the sewing camaraderie.
ASG Conference is August 1 through 4, 2019, in the greater Boston area, and the Threads team is raring to go!
We recently started a group project especially for conference: Sewing garments from Simplicity ASG patterns for Wear Your ASG Pattern Day on August 1. To share our progress, and encourage you to sew some of these great patterns too, we're presenting a monthly Facebook Live posts at Facebook.com/ThreadsMagazine. Tune in to watch our exploits, help us with fabric choices, and keep us on track!
The Patterns
Erica is sewing Simplicity ASG 8137, views C and D. What a cute top and pants.
Jeannine is sewing Simplicity ASG 8384. She's making dress view A, with the sleeves from view B.
Carol is making up Simplicity ASG 8014, view B, with the collar from view A. She has a head start because she previously sewed a version for a Threads article," Embellishments: Rickrack Weaving," by Loretta Kostyk in #196.
Christine is sewing Simplicity ASG 8637, a wrap dress with a graceful curved hem. She's sewing view A, and I can't wait to see the results in the gorgeous crepe fashion fabric she chose.
I'm sewing Simplicity ASG 8735, a wrap dress with a pattern feature I find saves me time: separate pattern pieces for different bust cup sizes.  I haven't decided on a view yet, but I made my muslin in view C.
Facebook Live Sessions
May 31st, 2019:  In our first Threads Live session, we shared our pattern selections and fabric options. Watch the session on our Facebook videos page, Threads Live.
June 28, 2019, 11am (Eastern): On Friday, June 28 at 11 a.m. (Eastern), we're going to talk about muslins and fitting adjustments. We did some preliminary work on muslin-fitting. Erica and Jeannine both needed circumference adjustments, while I needed some length taken out of the back of my muslin. We'll share more details in the Threads Live session.
July 26, 2019, 11am (Eastern): On July 26, we plan to have our finished garments completed to share on Facebook.
Preliminary Fitting
Erica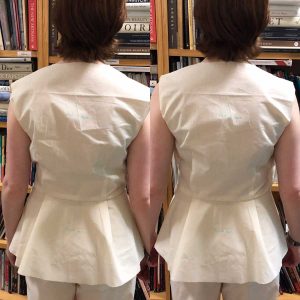 Erica's top muslin was too large in circumference (left). Pinning along the side seams made a difference, but there's more fitting to be done around the armscye and shoulders (right).
Sarah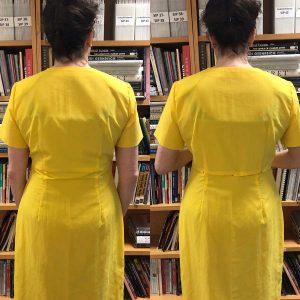 Notice the horizontal crinkling at the back waistline in Sarah's muslin (left). Pinning out a wedge across the back waistline alleviated that fitting problem (right).
Hope you'll tune in to Threads Live—and join us in sewing for ASG conference. Cheers!
---
~ Sarah McFarland, Editor, Threads magazine