This easy technique for hand quilting requires limited skills and mimics the precision of machine quilting.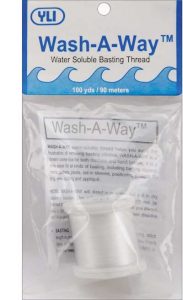 1.  Load the machine, both top and in the bobbin, with water soluble thread.
2.  Set the machine stitch length for the desired hand-stitch length. For the stitches to show up in this demonstration, the stitch length will be set at 4 mm. If hand-stitching for a quilt were to be done, perhaps a stitch length of 10-12 stitches per inch would be used.
3.  Cut the quilt sandwich (back, batting, top) and mark the design on the top fabric. For this demonstration, simple straight lines were used, but you can use any design of your choosing.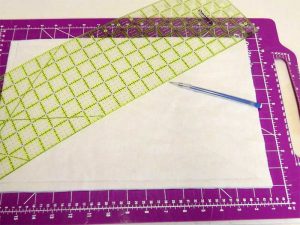 4. Stitch along the marked design lines with the water soluble thread. Optionally,  you can mark and stitch the design on the top only, then layer the quilt and stitch through all layers during the hand-stitching process.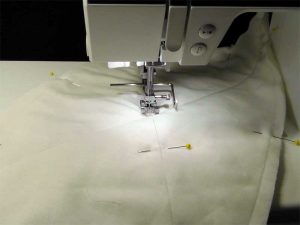 5.  For straight stitching, use the quilting guide that comes with your machine. Set it for the distance from the center needle position and allow the guide to follow along the previous line of stitching.

6. The stitching lines provide a guide for the hand stitching. Thread your needle using either hand quilting thread or a colorful embroidery floss (using as many strands as you'd like).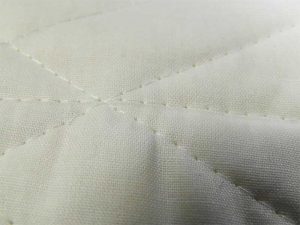 7. Following the stitching line, insert the needle in and out the holes created by the machine stitching. Mak sure the stitching goes through the back side, catching all layers.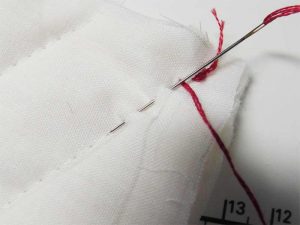 8. Complete all the rows of hand-stitching, following along the machine-stitched line.

9.  Spritz the water soluble thread with water and the thread will dissolve away leaving only the hand stitching.
The end result is beautiful, straight and consistent hand stitching.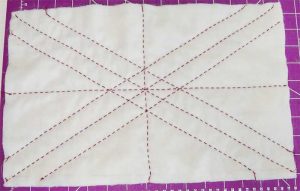 Adapted from an original post by Ramona Baird