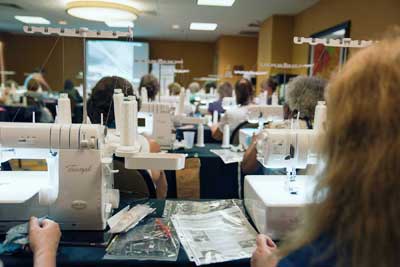 Our annual Conference options give sewing enthusiasts a place to celebrate all things sewing, quilting and embroidery.  The conference is open to to the public. If you love sewing, you'll love the creativity, the ideas, the ingenuity, and the fun!
Education: The virtual conference offers select classes from popular instructors. Our in-person conference offers daily educational opportunities in the form of workshops, seminars and lectures. Classes are tailored to every sewing interest from couture sewing to stash management, from fitting and alterations to surface design and embellishment, from hand sewing to serger sewing, as well as every level of sewing skill.
Shopping: The vendor-packed Exhibit Hall is full of both large and small sewing and quilting businesses selling fabric, notions, patterns, sewing furniture, machines, threads, projects, DVD's, books and more.
Fellowship: Tours, get-togethers, lunches, the annual Fashion Show and more!