Machine embroidery is one of the hottest ways to personalize your sewing and add your unique touch to your handmade items as well as store bought purchases. It can help turn a ho-hum item into a one-of-a-kind masterpiece. We must warn you, however, this aspect of sewing is definitely addictive and, unfortunately, can be quite expensive.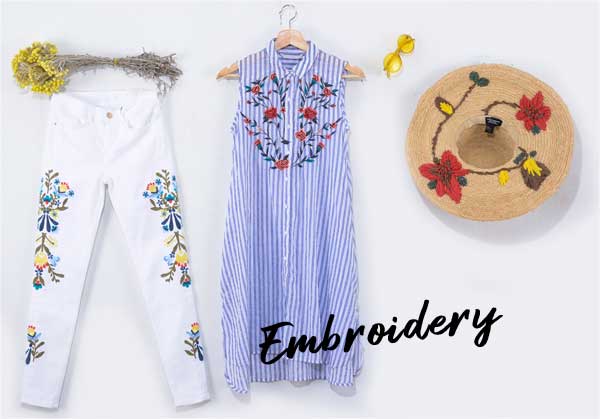 Needle
To get started, you need an embroidery machine. Most of the major manufacturers have a number of models that range in price from less than $400 to, well, let's just say more than the cost of a car. Some of the models are embroidery only, while others are combo machines that allow you to do all your sewing as well as embroidery. Which brand should you buy? There are good arguments to be made for all of them, but perhaps the best choice is to buy one from a reputable dealer in your area. A dealer can provide both lessons and regular maintenance on your machine which can be better than the few dollars you save from buying online.
Hoops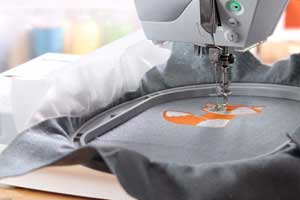 One of the features that can influence your decision is hoop size. A hoop is used to hold the fabric and moves it in the machine so the design can be stitched. Many of the entry level machines come with only 4" x 4" hoops.  That is the size of the design area that can be stitched on your item. This is a great size for over the pocket designs on t-shirts or children's clothing, but if your intent is to embroider elaborate designs on jacket backs, then look for a machine that can accommodate larger designs. Hoop sizes are getting larger each year, with a 16" hoop currently one of the largest in the home sewing market. Machines have embroidery arms to hold the hoops and are programmed for specific movements and cannot accommodate just any size hoop.  So just because the manufacturer makes a larger size hoop doesn't mean that a particular machine can use the larger size. Always check the specs for a particular machine.
The basic hoop is composed of an inner and outer plastic ring that generally fit together to hold the surface to be embroidered. While most of these hoops have screws to tighten the outer hoop over the inner one, in recent years more innovative hoops have come on the market. Some machines can use magnetic hoops that rely on strong magnets to hold the stitching surface in place and prevent hoop marks from being left on the surface. Others are spring loaded to make the hooping process easier.
Stabilizers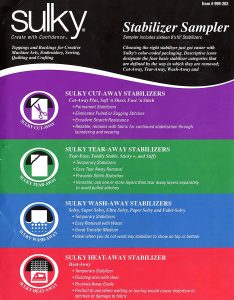 Stitching a design on a fabric adds not only weight to the fabric, but also stress as the needle  and threads continues to perforate and pull. While some heavy fabrics can handle this without any help, most would do well to have a stabilizer for added support. A stabilizer is a specially made backing that generally goes in the hoop with the fabric to help support the stitches and prevent the fabric from distorting. Choosing the perfect stabilizer can be a daunting task with so many manufacturers, weights, sizes, and styles.  Generally speaking, most experts will recommend using what's called a "cutaway" stabilizer for most embroidery. As the name implies, the excess stabilizer that is used on the back of the fabric is cut away after the design is stitched and the remainder stays in the item. This provides the added support that is often needed not only through the stitching process but through multiple washings afterward.
While this support after the item is stitched is important, many embroiderers dislike the look and feel of the cutaway stabilizer. The extra support can hinder the smooth drape of a fabric and the leftover edges can irritate skin when the back of the design comes in contact with sensitive areas. When a lighter hand is preferred, a "tear-away" stabilizer can be used. The tear away is more loosely constructed and tears easily where the needle perforates it. This provides a cleaner look to the interior but sacrifices long term stability.
There are also stabilizers specifically designed for use on the right side of the fabric. These stabilizers are intended to prevent stitches from sinking into plush fabrics and getting lost. These "wash-aways" or water soluble ones are for temporary use only and disappear when placed in water. They are also used in free-standing lace—but that's another discussion.
Needles & Threads
While it may be enticing to try to use regular sewing thread to embroider, for best results specially made embroidery thread gives the best results. These threads come in a multitude of colors and have an added sheen that regular sewing thread lacks. Most designs are meant to be stitched with a 40 weight thread. Using a different weight of thread can change how a design stitches out as well as how the final result will look. A thicker, heavier weight thread (30 or less) can make the design too dense and cause thread breakage or bunching up of threads while stitching. A lighter weight can cause gaps in coverage and allow fabric colors to show through the stitching. Threads can be made of cotton, polyester, rayon, and metallic. The current recommendation is a polyester thread. Changes in manufacturing methods give the new polyesters the luster of rayons but with more durability. Estimated shelf life for polyester thread is about 100 years. Rayons are beautiful, but do not hold their color when bleached; and cottons create lint that is harmful to the machine.

Most embroidery designs use a special bobbin thread instead of a matching thread in the bobbin. This thread is a lighter weight than the top thread, and can be purchased on cones or pre-wound bobbins. Always be sure to check with your manufacturer to determine if pre-wounds are recommended for your particular machine.
When using the 40 weight thread, a 75/11 needle  size is generally used.  Ball point, jersey, or stretch needles can be used on knits, while a universal or embroidery needle works well on wovens. Embroidery machines stitch at about 1,100 stitches per minute and can build up heat due to the friction of the rapid and continuous stitching. This wears out needles quickly and requires frequent changing of needles after a few hours of stitching to prevent their bending and breaking.
Embroidery Designs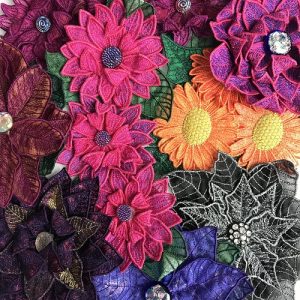 Embroidery machines require a specifically created computerized design before anything can be stitched out. Some machines come with generic designs like flowers, animals, holiday motifs, etc.  Other machines are themed with Disney, Pixar, and even Star Wars motifs.  In addition to the designs found in the machine, most manufacturers also sell designs that can be transferred to their machines through both direct and wireless computer links, flash drives, or older specialty cards. A quick search of the internet will also bring up a multitude of sites that sell these digitized designs. Before buying from an outside source, it is important to know the format, or language that your particular machine uses. ART, DST, EXP,  HUS, JEF, PCS, PES, SEW, VIP, VP3, and XXX are just some of the designations you may see. Buying the incorrect format is like speaking to someone in a foreign language. The machine won't be able to translate to stitch out the design.
In addition to the format and size of the design, it is also important to know the stitch count. The stitch count is the number of stitches needed to produce the design. If a design is extremely dense with a high number of stitches used to create it, some of the smaller machines may not be able to handle that much data for stitching it out.
It's also a good idea to remember that not all digitized designs are created equal. Many digitizers will offer free samples of their designs so you can test them out and see for yourself the quality of their work. You will soon learn which designers are your favorites and produce designs that meet your needs and budget. And if you are a bit of a computer geek and want a challenge, there are digitizing programs for the home embroiderer to create their own designs. You can take your drawing and turn it into your own one of a kind design.
Machine embroidery is a great way to challenge your creativity and expand the possibilities of your sewing projects. And if the embroidery bug has bitten, be sure to check out the ASG neighborhood groups that are springing up across the country. With many of them now online, these neighborhood groups welcome members from outside their normal chapter territory. They are an excellent source of inspiration and embroidery knowledge.
---
~Rosemary Fajgier