There are times when you need to press something flat or press a fold, but for one reason or another, you don't want to or can't use an iron. But never fear, there are other ways.
We all know the importance of pressing to set seams, make crisp edges, etc., but some fabrics don't like heat from an iron—they can melt, scorch or become totally destroyed from even the coolest of iron heat. Others tend to imprint from the iron's heat, leaving telltale lines showing the iron's outline or soleplate's steam holes. Some dyes, especially in handprinted fabrics, may be heat sensitive and pressing with an iron can cause irreversible color changes.
Think of some of your more unusual fabrics that are fun to work with—like screening, faux suedes, vinyls, laminates, oil cloths, waxed canvases, and many sheers or metallics—all of these are candidates for no-iron pressing.
But, how do you press without an iron? The answer comes in the form of two handy tools—a seam roller and an iron finger.

Seam Roller

You may be familiar with a seam roller from any wallpapering experiences—the roller is used to flatten the seams at the paper edge joinings and to help remove air bubbles for a flat application. But, take that roller to your sewing room to give it new life. Many sewing companies make seam rollers specifically for craft applications—the roller portion can be made from plastic, wood or ceramic.
One thing the seam rollers have in common is that the roller wheel may not be totally flat. There is a rise in the center portion of the roller so that it hits only the narrow area being "pressed" and contact doesn't extend beyond the center. This eliminates imprinting on delicate fabrics—a term used to describe a visible line on the right side of a seam where the seam allowance edges drop off.
A seam roller can be used to open seams and keep them flat, or it can be used to press both seam allowances to one side. Simple even pressure along the stitching line works for either. The roller can also be used to press a folded edge, like around an appliqué or facing. It's also great for creating a flat seam when paper piecing. If the fabric can tolerate it, roll the seam or edge from both the right and wrong side for a flatter result.

For best results, use the seam roller on a hard surface, like a table or rotary cutting mat, not on a soft surface like your ironing board.
In addition to no-iron pressing, the seam roller can be used in conjunction with the iron for added pressure. A great place to combine them is when tailoring wool—shoot the area with steam from the iron and press it further with the roller to embed the moisture.
Tip: If you're heading to a sewing retreat, take your seam roller to avoid standing in line waiting for an iron. Simply press at your work station with the roller.
Iron Finger
Also used to flatten seams, an iron finger is much like its name suggests—a round (or squared) piece of wood or silicone with a flat end. The flat end can be used just like the seam roller to open or flatten seams and edges, while the rounded (or squared) portion can serve as a mini pressing surface to open otherwise hard to reach seams, with or without an iron—think shoulder straps or purse handles. The tool simply fits inside the sewn piece so that the seam allowances are exposed at the top of it for easy pressing.

An iron finger can be a stand-alone tool, or it can be combined with other tool functions, like a stiletto or seam ripper.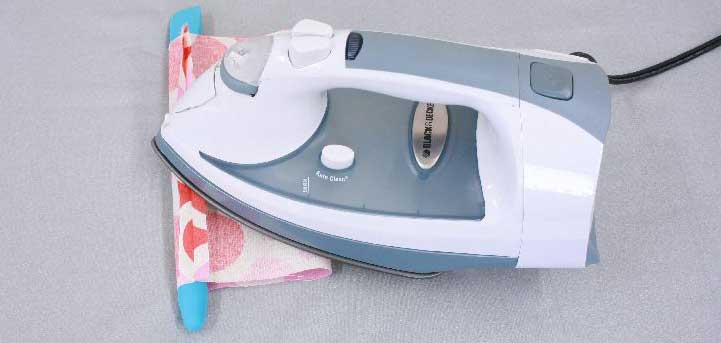 Finger Pressing
Never fear, you can press seams just with your finger or fingernail on many fabrics, especially quilting cottons. Another time saver so you don't have to leave the machine or use any heat or steam.
Simply open the seam (or fold it to one side) and run your finger or fingernail along the seam line, applying some pressure as you go.
Finger pressing is ideal for things like suedes, vinyl, sequined fabrics and other delicates when an iron just isn't a good option.
---
~Linda Griepentrog
Linda is the owner of G Wiz Creative Services and she does writing, editing and designing for companies in the sewing, crafting and quilting industries. In addition, she escorts fabric shopping tours to Hong Kong. She lives at the Oregon Coast with her husband Keith, and two dogs, Yohnuh and Abby. Contact her at .