Button, Button
Whether you use them functionally to close a garment, tote or other project, or you line them up as a border or trim or even string them together for a bracelet, buttons are definitely a fun sewing notion.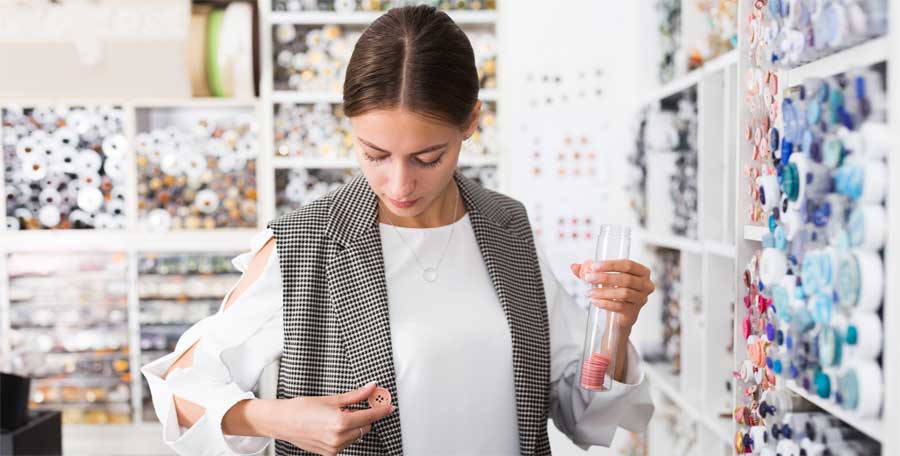 You can find buttons made from plastic, metal, bone, rhinestones, wood and a host of novelty materials. They can be machine made and mass produced in a variety of shapes and sizes, or carefully handmade one at a time. And you can even make your own buttons.
Sew-through or Shank?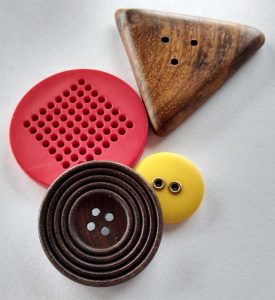 When you first look at the button rack in your sewing store, you will notice two types of buttons—those with visible holes and those without. The holed buttons may sport two, three, four or more holes, offering a wide range of options for attachment.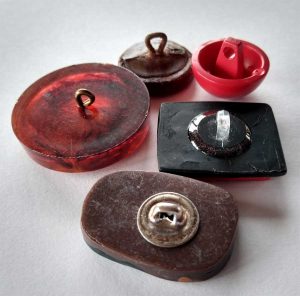 Shank buttons don't have a visible means of attachment on the button surface, and thus offer the opportunity for a more ornate design. The attachment loop is on the underside, either molded into the button backing, or as an attached plastic or wire loop.
While a sew-through button is flatter against the fabric surface, a shank allows the button to sit above the surface of the fabric and is ideal for thicker fabrics like coating and suiting.
Size Wise
Buttons can range from 1/8" to around 2 ½" diameter. Your project pattern should tell you what size is recommended and you can look for that measurement on the button card.
It's a good idea not to vary the button size too much from the pattern's suggestion, as the closure needs to fit within the allotted space on the garment. If you choose a different size, it may be necessary to re-space and/or resize buttonholes.
Attachment Antics
While you may have years of experience sewing on buttons, there are some tricks to make the process easier.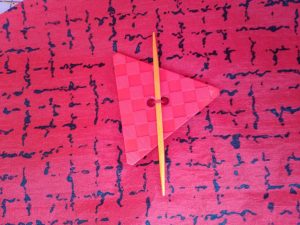 If you have a sew-though button and you're putting it on a garment sewn from a thick fabric, consider making a thread shank to avoid having the button make an indentation in the overlapping layer. The easiest way to do this is to put a toothpick between the button holes while sewing it on. Then, pull out the toothpick when the attachment is done, leaving you extra thread length to accommodate the fabric thickness.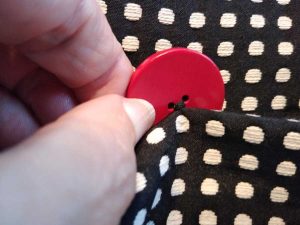 A second way to make room for thick fabric involves leaving extra space below the button for a thread extension, then wrapping that extension to neaten the multiple thread strands of the shank. The length of the shank should accommodate the fabric thickness.
For a quick and easy button attachment for sew-through versions, use your sewing machine to secure the threads. Consult your owner's manual for exact settings, but use an open-toe foot (some machines have special button sewing feet). Some button feet offer a metal projection to allow for making a thread shank on the button. If you need to secure the button before sewing, tape it in place, stitch through it, then peel off after sewing. Set the stitch length to zero and the adjust the stitch width to span the button holes. Then stitch back and forth between the holes about five times, and if it's a four-hole button, move onto the next hole set and repeat. At the end of the process, lock or tie the threads on the underside.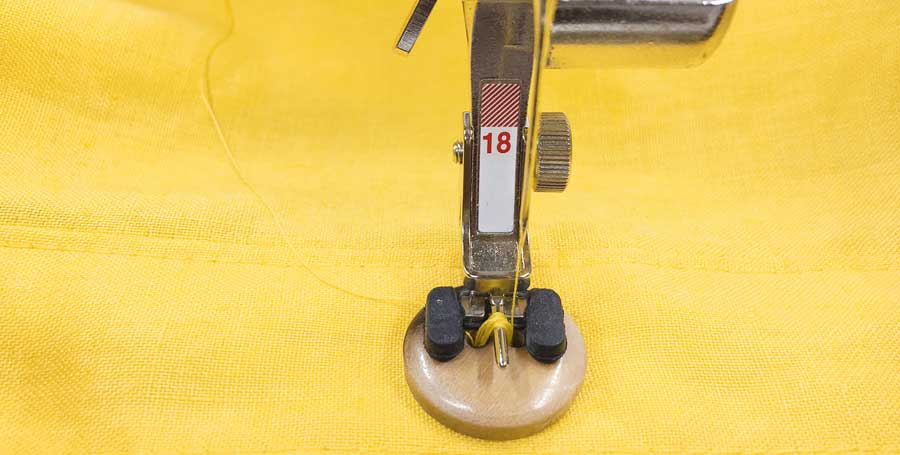 Got a novelty thread or ribbon you want to showcase, or a thin leather strip? Tie the sew-through button on. Put the strand through a large needle eye and stitch down through the hole from the right side, leaving an end long enough to tie. Bring the strand back up through the other hole(s) and tie off securely in a square knot. A bit of seam sealant can be used to secure the knot. Clip the strand ends shorter.
Fun or Funk
If you have an especially large or odd shaped button that you dearly love, but it would need a giant buttonhole to actually function, be clever and just sew it to the overlap side, either with or without an uncut buttonhole stitched under it. To make the functional closure, use snaps for an open-and-shut case without undo stress.
---
~Linda Griepentrog
Linda is the owner of G Wiz Creative Services and she does writing, editing and designing for companies in the sewing, crafting and quilting industries. In addition, she escorts fabric shopping tours to Hong Kong. She lives at the Oregon Coast with her husband Keith, and two dogs, Yohnuh and Abby. Contact her at .