You're likely familiar with cork as a stopper for wine, but cork is equally at home in your sewing room (with or without the wine)!
With an interest in sustainability, sewists have embraced cork fabrics (also called cork leather) with open arms. A cork tree can live for 200 years and when the bark is harvested, it grows new bark. Pair the thin bark with a woven or knitted backing and cork works like most other fabrics, with the exception of being washable or dry cleanable—it's spot-cleanable only.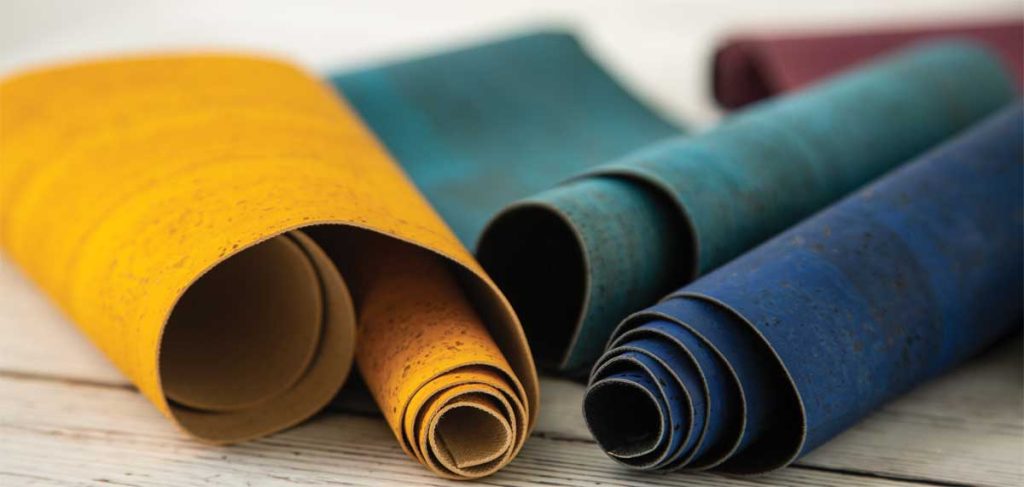 You can purchase cork by the inch, by the yard or in pre-cut sizes, depending where you're buying it. Some projects require very little as it's often used just as an accent, like pockets or straps on a bag. It's ideal for home décor projects and small accessories, like book covers, change purses, wallets, etc.
Cork fabric is available in myriad colors and printed patterns—some have embedded metallic flecks, others have a die-cut surface with contrast backing fabric, and others are hand-painted. Cork is available in different weights, depending on the brand, so be sure to note the thickness before purchasing and compatibility with your project.
Cutting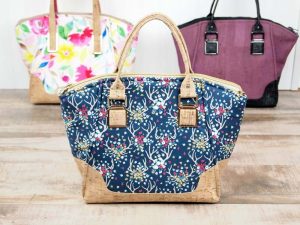 Cork fabric can be cut with scissors, a rotary cutter, a craft knife or a die-cutting machine. Since pin marks may be permanent, it's best to use pattern weights to hold the pattern pieces in place while cutting. Cork can't be folded, so trace entire pattern pieces for single-layer cutting.
Follow the pattern grainline if your cork has a distinct pattern to it and note that shading can occur on some corks if you vary the piece directions within a single project.
Sewing
Just as pin marks may be permanent, needle holes can be as well, so think before you sew. If you didn't, spritz the area lightly with water after removing the errant stitches, then hover a dry iron over the area to make steam. The moisture can help reduce the size of the needle holes.
Choose a slightly longer than normal stitch length (3mm) and either an 80/12 Microtex or Universal needle. Regular weight sewing thread works fine for seaming, and topstitching or machine embroidery thread for embellishing.
Press cork only on the wrong side using a dry iron and a low-temperature setting.
Some helpful notions for cork sewing are a non-stick presser foot (when sewing from the right side), a walking foot for even feeding, a chalk marker and basting tape or fabric glue. Low-temp fusible or sew-in interfacing can be used in areas requiring additional stabilization, like bag straps, behind grommets, etc. Spring clips are a must for holding layers together when seaming, especially for thick areas like straps, drawstrings, etc.
Seaming
Cork can be sewn with a traditional seam, using spring clips to hold the layers in place while stitching. In addition, you can create a lapped seam by trimming the seam allowance off the overlap layer, using basting tape to lap it over the lower seamline, and sewing in place with one or two lines of stitches.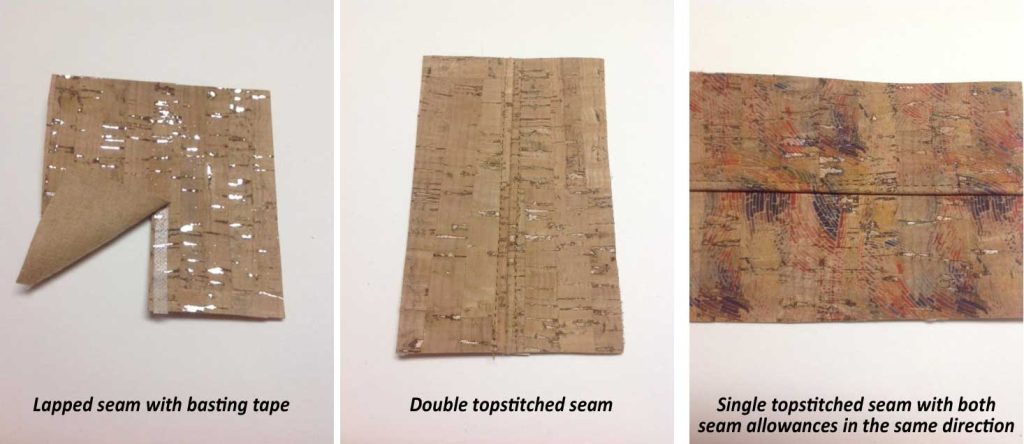 A third seam, called a butted seam, can also be used and it creates a totally flat seam. To create a butted seam, trim off the seam allowances on both edges to be joined, then place a narrow strip of fusible interfacing under the abutted edges. Use a wide zigzag, three-step zigzag or a decorative stitch to catch both cork edges—the stitching must span the seamline to catch both sides.
Topstitching cork is imperative to hold both traditional and lapped seams in place. For traditional seams, finger-press the seam allowances in either one direction or open before topstitching.
Edge-finishing
Since cork fabric doesn't ravel, a clean-cut edge is an easy finish. Where possible, trim the edge with a rotary cutter for a smooth line.
Depending on the project, decorative scissors (such as pinking, wave or scallop) or rotary cutter blades can be used for creative edge finishing.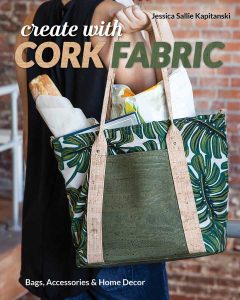 Looking for more information on sewing with cork and some fun projects, like the Shopping Tote pictured here? Look for Create with Cork Fabric, by Jessica Sallie Kapitanski (aka Sallie Tomato).
---
~Linda Griepentrog
Linda is the owner of G Wiz Creative Services and she does writing, editing and designing for companies in the sewing, crafting and quilting industries. In addition, she escorts fabric shopping tours to Hong Kong. She lives at the Oregon Coast with her husband Keith, and two dogs, Yohnuh and Abby. Contact her at .