You can take advantage of the bias grain in couture garments in two ways:
Garment sections or entire garments can be cut on the bias grain to create interesting effects in the drape, fit, and visual design of the garment, or
Bias-cut fabric strips can be used to bind edges and to create piping for both decorative and functional purposes.
Madame Vionnet said, "There are three grains: lengthwise, crosswise, and bias. We must understand them all."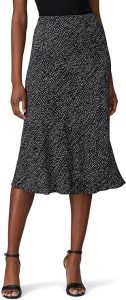 The fear of working on the bias was ingrained in many of us at an early age. Some sewing teachers spoke of it as the enemy, never to be understood and to be kept at a distance. The bias is not a disease—it is a grain of cloth that when respected, can be used to your advantage to produce remarkable results.
The bias does, at times, have a mind of its own, but with understanding comes control. Couture is about bias. When you can handle bias, you are couture!
Bias hangs "thinner" than both straight and crossgrain.
Bias doesn't ravel.
Bias doesn't wrinkle.
Bias is soft and rounded.
True bias is the grain that runs at a
45-degree angle to the lengthwise and crosswise grains.
When working on the bias, the fabric must be perfectly grained up and the bias line established.
The full article is in the Members area of the website. CLICK HERE to read the full article. Not a member? Join online!