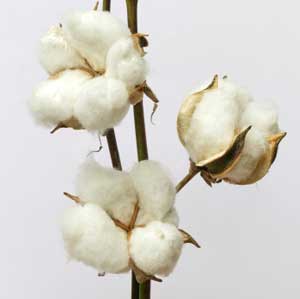 Cotton is the natural fiber from the seedpod of the cotton plants. This versatile fiber is used to make well over 90 different fabrics from calico to canvas, charmeuse to denim, velveteen, poplin, cotton jersey and much more. Cotton fabrics can be silky or rough, smooth or textured, thick or sheer, completely indestructible or lavishly luxurious. It's soft, yet strong, is moisture absorbent and accepts dye beautifully. Cotton is also breathable, making it a great summer fabric, and is comfortable to wear. It releases odors easily, making it the perfect fabric to use in workout wear.
On the down side, cotton shrinks, may bleed and, unless blended with something else, often ends up a wrinkled mess. To counteract some of these disadvantages, cotton fabric is commonly treated with special finishes and you may see wording on the bolt end along the lines of "water repellent," "shrink resistant," "durable press" and more.
Pre-shrinking
Many cottons will shrink the first 2-3 times they are washed so taking time to pre-shrink your fabrics (and notions, interfacings and linings too!) will help to prevent potential problems with the finished product. Even if the fabric is labeled "needle ready" or "preshrunk," preshrinking is often still recommended to wash out any fabric treatments that could end up being skin irritants.
What to Look For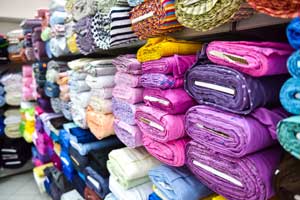 When shopping for cotton yardage, look for a tight weave and straight grain. Lengthwise and crosswise threads should intersect at true right angles. Prints should be clear and printed plaids should be straight. Watch for one-way designs, nap, or luster that might require a one-way layout when cutting out your pattern. Adjust fabric yardage accordingly, keeping both shrinkage and layout in mind.
Helpful Tips
Wash your cottons in cool to warm water to prevent further shrinkage.
Don't use fabric softener as it can dull the finish and cause fabrics to lose their shape.
Dry on low to medium heat.
Air dry flannel or, if using a dryer is necessary, use low heat.
Wash jeans inside-out in cold water and keep them out of the dryer.
If you want to avoid the iron and still have wrinkle-free clothes, intercept them halfway through the dry cycle and hang them up to complete the drying process.
---
~Copyright © 2019