If you've browsed a fashion magazine in the last few years, you may have stumbled upon the idea of the "Capsule Wardrobe."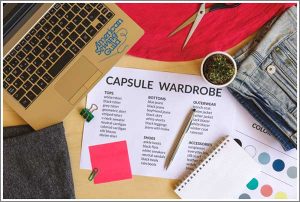 The "inventor" of the Capsule Wardrobe is Susie Faux. In the 1970s, Susie owned a boutique in London called Wardrobe. She noticed that it was becoming more common for women to buy MORE when it came to their wardrobes. More tops, more pants, more shoes, more accessories. But with all of this MORE, they actually got less:  Lower quality items that would be out of style in a season or two. She came up with the idea of the Capsule Wardrobe as a limited collection of timeless pieces to mix and match to create a variety of looks. Outfits that would last a decade, not just a season.
Though Susie coined the term decades ago, Capsule Wardrobes have recently come back into the spotlight as consumers shift from the idea of buying a lot of low-quality, often low-priced, items, to the idea of owning fewer items that are made to last. This has been extremely true for the clothing industry, where fast fashion – cheaply made and ill-fitting clothing for cheap prices – has ruled for years now.
As any sewist will tell you, the best way to control the quality of your clothing… is to make it yourself. And so comes the idea of the handmade Capsule Wardrobe. But how would you even get started?
The Starting Point
The best place to start is with a list. Sit down and make a list of the clothing you wear most often. Tops, bottoms, shoes, and accessories, everything but undergarments. If you wear skirts often, you may want to include one in your capsule wardrobe. If you can't choose between leggings and jeans, you may want to create one of each. Capsule Wardrobes aren't meant to put you out of your comfort zone or force you to adopt a new style. They a way to cut down your wardrobe and truly highlight your unique style. And your Capsule Wardrobe may look completely different from your friends'.
Next, you'll want to figure out if you will swap your wardrobe out seasonally. If you live in an area where you experience very different temperatures as the seasons change, this is probably the best choice for you. Alternatively, you may want to build one core Capsule Wardrobe if you experience similar weather all year long. If you choose this option, you'll want to think a lot about how you can layer items to accommodate mild weather changes.
You Make the Rules
There is no specific number of clothing items you need to limit yourself to, but some example formulas for capsule wardrobes are:
50 "base" items workout, lounge, layering, outerwear, and accessories, as well as 9 tops, 5 bottoms and 5 shoes that switch seasonally
37 items per season
36 total items – not counting anything you don't wear out of the house, like loungewear and formalwear
While 50 items may seem like a lot to you, consider what you wear each day. An outfit with a tank top, tee, headband, earrings, necklace, bracelet, belt, pants, and shoes counts as 9 items! Some Capsule Wardrobe owners strip down to just 10 items, while others go over the 50-item line. Your perfect number will depend on your lifestyle. The key things to keep in mind are to focus on quality, timeless style, and getting rid of excess.

The Benefits
Why do people choose to switch to a Capsule Wardrobe? There are a lot of common answers:
To cut down on the amount of clothing thrown away… and taking up space in our overflowing landfills
To save money by purchasing fewer items that will last longer
To define your style
To save time choosing outfits in the morning
To improve style by wearing items cut for your body
And while there are many benefits to creating a Capsule Wardrobe, there are even more benefits to sewing it on your own:
To save even more by creating your own designer clothing without the designer cost
To have total control over material and fit
To feel the pride of knowing your amazing wardrobe came from your own two hands
To learn to make the clothing items that you enjoy wearing
DIY a Capsule Wardrobe
If you want to DIY a Capsule Wardrobe, here are some additional things to keep in mind:
The Scope of the Project: Chances are, you won't be sewing yourself a pair of shoes. So these won't count toward the total in your capsule wardrobe. The same goes for jewelry and many accessories. Additionally, you may already have a few items that would work great in your Capsule Wardrobe. Know your own pace and understand that it could take you months or longer to create all of the pieces for your wardrobe.
Your Color Scheme: In order for almost EVERY item to go with the other items in your Capsule Wardrobe, you'll probably want to stick to a color scheme. There are a lot of resources out there that can help you choose the perfect color palette, including examples from other Capsule Wardrobe-wearers. Which leads to our next tip…
Inspiration From Non-DIY Capsule Wardrobes: There are MANY sewists out there who have built their own Capsule Wardrobes who you can look to for inspiration. But to get a full idea of what you can create with your Capsule Wardrobe, don't forget to look at wardrobes of fashionistas who purchased the items in their collection.
Fabrics: No matter how often you'll switch out your wardrobe, you'll want to keep your fabrics in mind. You'll want to make sure you have good movement, that you won't have to dry clean the items and that you'll just simply be comfortable. If you need some help figuring out which fabrics would work best for your Capsule Wardrobe, the ASG Facebook page or your local ASG chapter members are great resources!
If you're not quite ready for a DIY Capsule Wardrobe, maybe this post will inspire you to clear items out of your closet that you haven't worn in a while or start to work on more projects for your own wardrobe. As always, we're here for support and inspiration!
Do you think you will ever create your own Capsule Wardrobe?
---