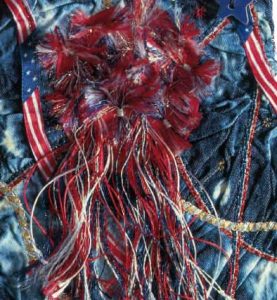 Many sewing projects require straight, precise lines at a pre-defined width using thread that blends into smooth fabric. But when it comes to decoration, there are no rules, and fabric becomes an artist's canvas for sewing crooked, intentional wrinkles, and wild and vibrant threads.
In her book, Creating Texture with Textiles, Linda McGehee covers topics like crinkling, beading, couching, the cameo shuffle, pintucking, lattice piecing, and more. In this article, Linda shares her technique for making fuzzies and tassels. (reprinted with permission). 
---
Fuzzies and tassels are simple to create and the color choices are as varied as the threads available. Threads that ravel nicely, such as heavier metallic and rayon threads for the upper and lower looper in the serger work beautifully for either technique. A combination of threads in a variety of colors produces the best design, depending on the project.
Fuzzies
Follow along for steps to make a fuzzy:
To make a fuzzy, twist 10 to 20 threads together to form a cord (Step 1). Begin with several long pieces of thread, fold them in half, then in half again.

Vest Challenge: Use these techniques (or others!) to enter the Ghee's Vest Challenge. Learn more on the Ghee's website or download the flyer. ASG Members, don't forget to use your ASG discount! Get it in the Special Offers section.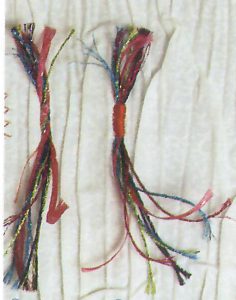 To prevent pulling the finished fuzzy apart, use an open-toe foot with a serpentine stitch, a short length, and width as wide as the twisted cord to stitch the distance that is intended for the satin stitch (Step 2).
With the presser foot down, set the machine for a perfect satin stitch the width of the cord.
While in reverse, stitch over the serpentine stitch to the beginning of the stitching (Step 3).
Set the width just a little wider and stitch forward over the previous stitches to achieve a smooth finish. Because of the bulk of the threads, you may need to help the machine during the final stitching.
Tassels
Tassels are somewhat easier because one step is omitted.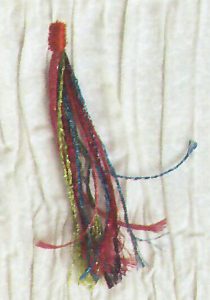 Begin with twisted threads as with the fuzzies above (Step 1).
Zigzag over these threads about 1/4″ (Step 2).
Sink the needle into the fabric, lift the presser foot, pull the upper twisted threads around to position them on top of the others, and satin stitch over the previous stitching (Step 4).
 Widen the stitch to accommodate the double layer of threads.
Trim to the desired length.
Let the threads hang naturally or use your hands to mingle and separate them.
Tassels have never been easier!
Tips
Any heaver serger thread or yard that ravels easily is great for fuzzies and tassels. Try metallic, rayon and ribbon floss.
Twist the threads tightly while stitching the serpentine stitch to make the smallest center
The twisted thread will be doubled in the tassel-making process. Plan accordingly and do not make the first step too large.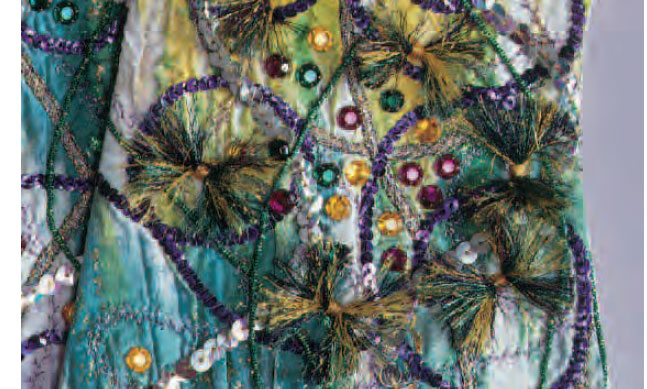 ---
~Linda McGehee, Ghee's (reprinted with permission)