OOOPS!
Much as we love sewing, things don't always go as planned. Sometimes an accident happens in the process from cutting to finishing, or even at the first wearing. Rather than using any of 'those' words, it's a lot more fun to try to figure out a creative solution to the problem that looks like it was intentional. Let's look at three of those possible occurrences:
Not enough fabric
We've all done it, thinking we can outsmart the pattern company requirements. Maybe we're trying to use up fabric in our stashes, but somehow there's not quite enough. Two creative solutions are pattern mixing and color blocking. Instead of cutting all the garment pieces from the same fabric, mix them up for fun.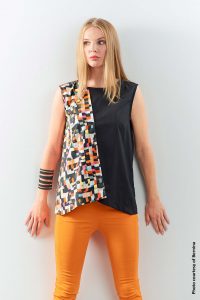 Make it seem like there was a plan for your artsy touch. Look for prints in similar colors and/or motifs. Fabric manufacturers often make coordinated groupings that are made to go together. Choose fabrics with similar motifs—for example, garden or flower prints. Select prints of similar scale and contrasts. Solids are always a good go-to tie-together—pick a color found in the print(s) or go with one directly across the color wheel for a bolder look. Just remember when cutting, you'll need a left and right half to the garment and it's easy to forget to flip the pattern piece over.
Errant scissor cuts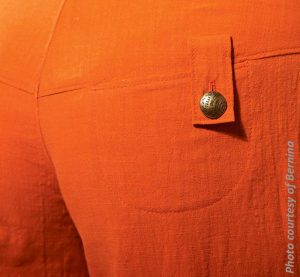 Let's just say you accidentally cut a hole in your garment while trimming a seam allowance. Who hasn't done that at some point in their sewing life? The creative solution: Add something to cover it—like a tab. But before you do, stabilize the erroneously cut edges by ironing a piece of fusible interfacing on the wrong side of the snip to hold the edges together and keep them from fraying. No one will be the wiser to your solution.
Stain game

It never fails, the first time your grandchild wears a garment you've painstakingly made, they spill something on the front of it and voilà—permanent stains, despite your best efforts. A fun solution: Use embroidered patches to cover the stains and add some fun. Embroider them yourself or purchase them from the notions wall at your favorite fabric store. Use invisible thread and sew around the edges and listen as people say, "Isn't that a cute shirt? I love the patches." We'll never tell.
So, when something doesn't quite go as planned, take a deep breath, don't panic and find a sewing friend to help you come up with a creative resolution. Sometimes the solution is more fun than the original plan.
---
~Linda Griepentrog
Linda is the owner of G Wiz Creative Services and she does writing, editing and designing for companies in the sewing, crafting and quilting industries. In addition, she escorts fabric shopping tours to Hong Kong. She lives at the Oregon Coast with her husband Keith, and two dogs, Yohnuh and Abby. Contact her at .