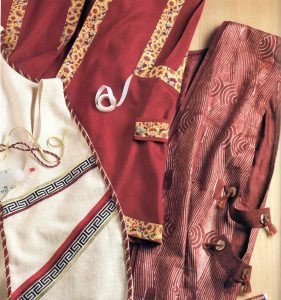 Vests are a popular garment for good reasons — they go many places and serve many purposes, from dressing-up an outfit for the holidays, to giving a skirt or pants a fresh look, to adding a colorful layer to a plain top, and to keeping you warm. With these simple drape-and-shape techniques, you can quickly make vests that flatter your figure and go anywhere, depending on the fabrics and embellishments.
Drape-and-shape construction has been the favored method for making clothes since people started wrapping themselves with animal hides and cloth. From caveman to couturiere, those who create garments know the best is achieved by draping-and-shaping the fabric on the wearer's body (or on a form of his or her body). The vest uses a few of the simple drape-and-shape methods which means that anyone, regardless of their size or shape, can create gently fitted, graceful clothes. Fit the garments for how you want the final shape.
The vest in this project is long and flowing (Figure 1) and is designed for a medium-large figure (39-42″ bust and 41-44″ hip); however, it is easy to change in length or fullness to fit your particular figure.
The full article is in the Members area of the website. CLICK HERE to read the full article. Not a member? Join online!