What's the best way to clean my iron?
If you're using fusible sewing products like webs, interfacings and stabilizers, there's always that errant portion that finds its way to the soleplate of the iron. If you don't take care of it right away, the fusible goo can transfer to the next thing you're pressing and then it comes a bigger challenge to get the black stuff off the fabric.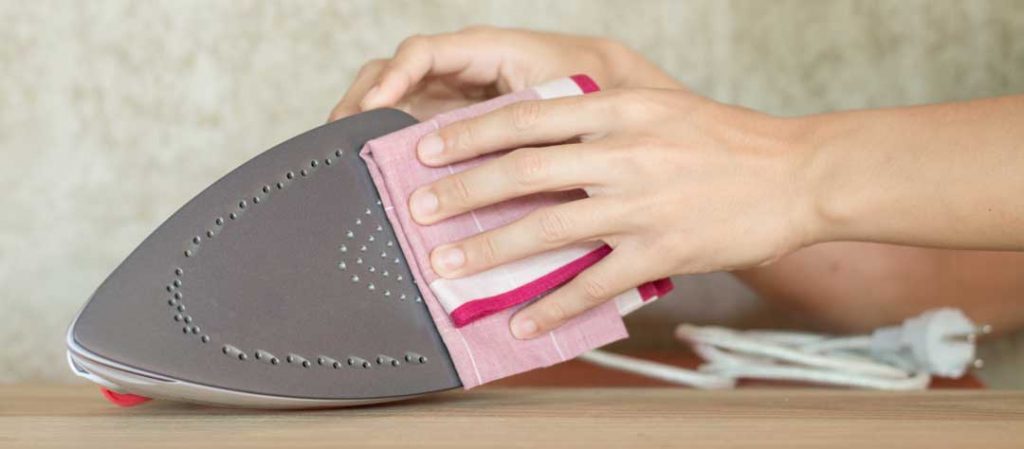 If your iron has a non-stick soleplate, fusible adhesive can often be simply wiped off using a soft rag or paper towel. But, if your iron doesn't have that feature, enlist the assistance of an iron cleaner available in the notions department of your fabric store. Usually in a tube, these cleaners just smear onto the soleplate surface of a warm iron, interact with the adhesive, and are gently wiped off with a cloth. They may smoke a bit in the process, but no worries—that's just the product doing its work. Be sure to read and follow the product instructions.
Prefer a DIY option? Mix two parts baking soda and one part water to form a paste and gently rub it onto the soleplate. Or, soak a cloth in white vinegar and heat in the microwave for 30 seconds, then wipe the soleplate.
It's important never to use an abrasive pad or cleaner on your iron soleplate as those can scratch the metal surface.
No matter what cleaning option you choose, keep the product out of the steam holes on the soleplate. If you do get some in them, use a pipe cleaner or cotton swab to remove the excess.
For fusing, it's best to use a press cloth to protect your iron from errant adhesive—saving you the effort of cleaning it.
Can I use home décor fabric for a garment?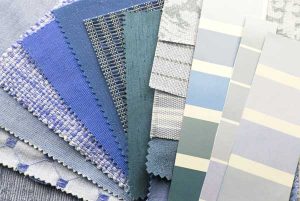 Short answer—it depends! Many home décor fabrics can be used for garments, but some are better left on the bed or the chair. So, ask some questions about it before jumping into the switch.
Check the weight of the fabric—will it drape or hang appropriately for a garment? Some curtain and drapery fabrics are ideal, while upholstery fabrics tend to be too stiff and often have a heavier backing.
Are there finishes that affect the fabric's hand? Sun- and stain-resistant finishes often make fabrics stiffer than might be appropriate for a garment, and chemicals can potentially cause an allergic reaction if in close contact with skin, so be sure to read the label carefully.
Check the care instructions, as many home décor fabrics are dry-clean only due to their added finishes.
If the fabric feels right to you for garment use, there are some advantages to home décor fabrics. Most are wider than traditional garment fabrics so you may not need as much. Many offer bold patterns to make eye-catching garment patterning, but be sure to account for pattern matching before you buy, as extra may be required to match large prints. If you're working with a bold print, keep garment design lines simple to avoid breaking up the visual patterning.
Do I need a rotary cutter if I'm not a quilter?
Rotary cutters slice a very straight, clean edge which is ideal for many fabrics, both quilting cottons and garment fabrics. It also creates a smooth edge on fabrics like UltraSuede, cork, etc. that may have lapped seams. Rotary cutters come in several sizes, so the blade diameter can be tailored to the use. A protective cutting mat is required to protect the table surface.
Pro
One advantage of using a rotary cutter for garment sewing is that the fabric can stay flat on the cutting surface as you cut. That's very helpful for slippery materials or fabrics that distort readily, like loose knits. Used with a medium to large blade and a ruler, rotary cutting for straight lines is faster than scissor cutting—think full skirt, long eveningwear seams, etc. Smaller diameter blades work well for cutting curved areas like armholes and necklines.
Con
One downside of rotary cutting garments is that you have to have the protective cutting mat under the area being cut, and this may necessitate constantly moving the mat (depending on the size) or the fabric.
So, is a rotary cutter necessary if you're only sewing garments? No, but it's definitely a nice option to have around, especially if you're sewing on pesky fabrics that make scissor cutting more challenging.
---
~Linda Griepentrog
Linda is the owner of G Wiz Creative Services and she does writing, editing and designing for companies in the sewing, crafting and quilting industries. In addition, she escorts fabric shopping tours to Hong Kong. She lives at the Oregon Coast with her husband Keith, and two dogs, Yohnuh and Abby. Contact her at .