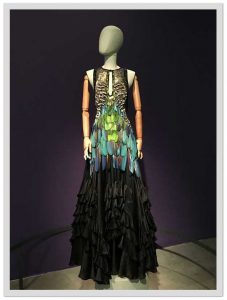 During a trip to Israel, I visited the National Museum in Jerusalem. The museum was having an exhibition featuring 150 costumes which combined to form a historic display of the vibrant and complex tapestry of Israeli society. The exhibit, titled "Fashion Statements: Decoding Israeli Dress," opened in June 2018 and will close in April 2019.
The exhibit showed that fashion belongs equally in domains of art as well as consumerism and is a rich source of information about the culture from which it stems. This can be gleaned from the artists' choice of material, colors and designs. The exhibit sets out on a journey to share the advances in Israeli fashion during the late 19th century and how these works affect Israel's piece of the global fashion industry today.
The Designers
While all of the pieces in the exhibit represented Israel, the work of each artist was unique to them.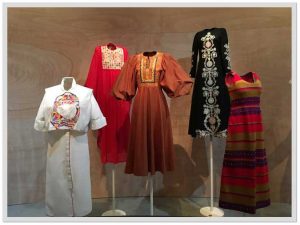 A featured designer, Liora Taragan, creates designs that blur the line between clothing and jewelry. She draws inspiration from history of fashion, Jewish symbolism, and Victorian and Palestinian embroidery. Worked into her pieces, you'll find feathers, coins, seashells and many other unique materials.
Also featured was Maskit, a legendary Israeli brand that played an important role in integrating traditional crafts into fashion design. It was founded by Ruth Dayan, its first and most prominent designer, in 1954. She launched the brand to create job opportunities for immigrants who were experts in a variety of handicrafts. It connected experienced designers with traditional embroiderers, weavers and silversmiths who collaborated on producing attractive modern items. Dayan also hoped Maskit would ensure preservation of the international crafts.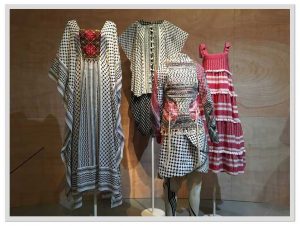 One of the collections was called the Keffiyeh Collection after the checkered black and white scarf that is worn around the neck or head in Palestine. The designer, Roju Ben-Josep, featured dresses made of red, white, and black keffiyeh fabrics incorporating Bedouin (a group of nomadic Arab people) embroidery and Hebron (a Palestinian city on the West Bank) glass decorations. Her collection symbolized hope for peaceful coexistence between the cities that inspired her work.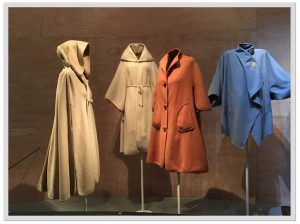 The clothing plays off of the traditions and atmosphere of Israel. Tali Kushnir found her inspiration in the work clothes of British and Jewish workers in Palestine at the beginning of the century. The tents of the Bedouin and the colors of the Negev (a southern region of Israel) were the sources of inspiration for an iconic coat she created, featuring  a large flowing shape made with handwoven wools and knitted coils.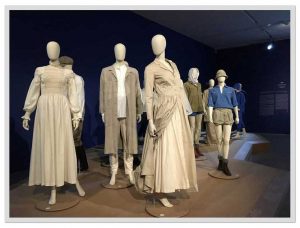 These designers were able to find inspiration all around them and feel a deep need to preserve their culture, as well as its artists. Whether pulling from their religion or the local materials available to them, the designers featured in Fashion Statements were able to come together to present a united view of what fashion means in Israel. It was wonderful to get a glimpse of the country and its history through fashion.
---
~ Kendra Mochel, past president of the Princeton Chapter, also served as VP