I Can't Wait for this Zipper!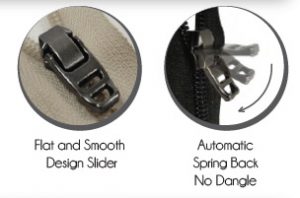 I've been working on the next series for ASG, including showing different zippers and techniques for inserting them in pants and skirts. While it's easy to be intimidated by sewing zippers, stay tuned to learn a couple of tips and tricks that will prevent it from being a difficult sewing task.
One thing that has always bugged me about zippers though is the slide. On a standard zipper, when the slide is all the way to the top of the garment at the waistband, it forms a little lump. I have tried several things to try and minimize it only to wonder why no one has invented a flat slider. Something that when the tab is positioned, it aligns with the top of the slider and the slider is flat under the flap of the fabric. So, research began—I wanted to know, has someone besides me actually thought about this?
As it turns out, they have! YKK has developed the DS13 Semi-automatic slider (flat) slider and the tab locks into position when the zipper is closed. It's been on the market for a few years in the commercial market for clothing and footwear and even won a "Good Design Award" in 2017.
Unfortunately, I have yet to find this flat slider zipper packaged for home sewers or found it in sewing stores. If you've seen it, please, let me know – I really want flat sliders!
Sew 'til next time…enjoy the journey of sewing!
~Ramona