Most sewers have fusible web in their arsenal of sewing tools, but in areas where you need only a teeny line of adhesive, check out fusible thread. Yes, thread that fuses. The fibers are activated by the heat of the iron, as they have a low melting point.
Fusible thread enables you to place a very thin line of adhesive exactly where you need to, without the mess of glue or trying to trim web narrowly. And, you can sew and serge with it to help get it where you need it. Do note, most fusible threads create only a temporary hold, until you sew permanently.
Name Game
Fusible threads are made by several different companies, and they look slightly different depending on the brand. Some are white, others clearer; some are tightly twisted, others not. Check your favorite sewing or quilting shop for these options: YLI Fusible Thread, Wonderfil Iron 'n Fuse™, Gütermann Fusible Thread, Superior Charlotte's Fusible Web and Floriani Press N Bond.
Fuse Use
Fusible thread can be used in the bobbin of a conventional sewing machine or in the lower looper of the serger, depending on the application, but always paired with regular thread. If you use it on a conventional machine, wind the bobbin slower than you would regular thread. Some brands of fusible thread can also be used through the eye of a large needle, but be sure to test-stitch to note any tension adjustments needed.
Fusible thread is always placed on the side of the fabric where fusing is needed for the final application, so note which side is up when stitching.
Fusible Applications
Non-sewing applications include placing a strand of fusible thread inside pleat folds to help create sharp edges. Or, add a thread inside a pant crease to maintain a perfect crease. A fusible thread strand is ideal for quickly "basting" a patch pocket in place for stitching.
If you're applying narrow trims, fusible thread placed under the trim is just enough to hold it in place for stitching.
Matching plaids or stripes is easy peasy with fusible thread. Press under one seam allowance, position the fusible along the folded edge, overlap matching the design, and press. Then open out the seam allowances for regular thread stitching along the seamline. (Figure 1)
For garment sewing, fusible thread can be used in several ways. Use it for understitching—on the facing seam wrong side. After sewing, turn the facing to the inside and press the edge to melt the thread. Topstitch if desired.
When creating a narrow hem, such as at an armhole or on a ruffle, use the fusible thread in the serger lower looper. Position the fusible on the fabric wrong side, press the narrow hem in place, and stitch permanently using regular thread. This works for wider hems as well, as they stay in place for hand or machine finishing.
Do you have issues with zipper insertion, especially those centered applications? With fusible thread in the bobbin, sew a zigzag along the zipper tape edges so that the fusible is on the zipper right side. Center the zipper over the basted placket area and fuse in place. Add the permanent stitching with regular thread and voila—the zipper is perfectly centered without shifting. (Figure 2)
If you're creating an appliqué, trace the shape onto the appliqué fabric right side. With fusible thread in the bobbin, sew around the appliqué shape. Trim very close to the stitching line, then fuse the appliqué in place on the base fabric. To finish it, use a decorative stitch or zigzag around the appliqué edge.
One advantage of using fusible thread for appliqué, as opposed to fusible web, is that only the outer edge is fused, not the entire shape. So, there's less stiffness, and to reduce bulk, the area under the appliqué shape can easily be trimmed away if needed, or you can easily cut a slit in it to add stuffing for a dimensional look.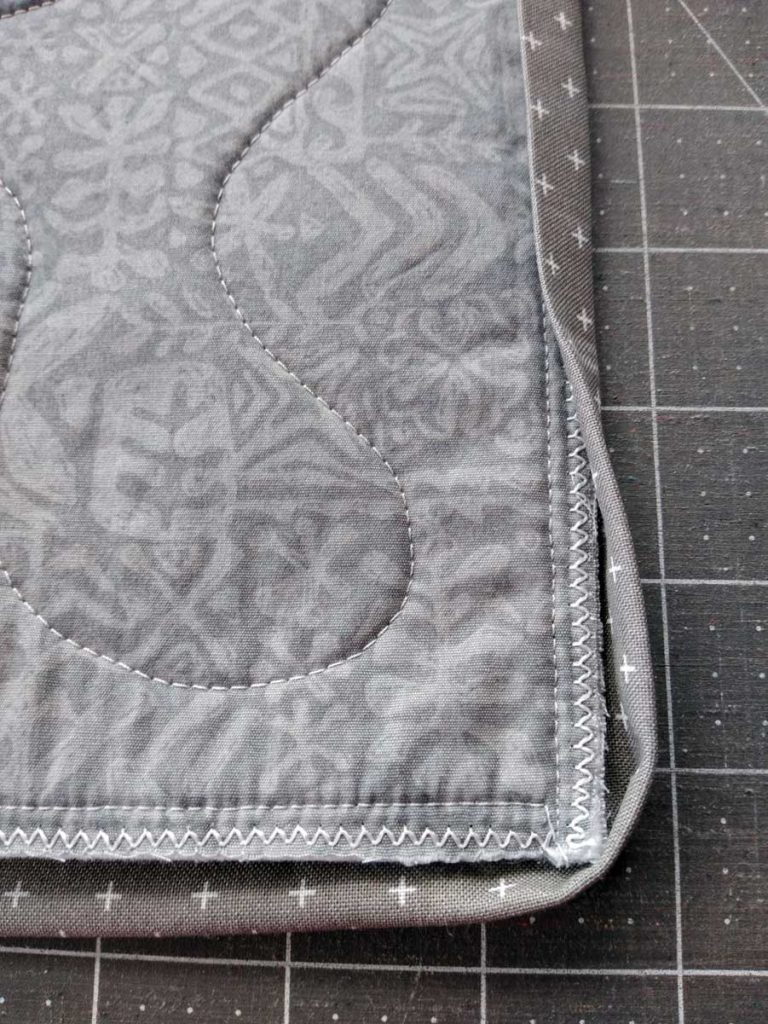 Quilters often use fusible thread for an easy binding application. Binding can be attached from back to front, or front to back. Stitch the binding to the quilt using regular thread. Then, use a zigzag with fusible thread in the bobbin to stitch the binding seam allowances together; the fusible should be on the unfinished side of the binding. Press the binding over the edge and fuse. To finish, topstitch or hand-stitch in place…no pins or clips needed to hold it securely in place while stitching. (Figure 3)
So, be sure that fusible thread stays close in your sewing room, as you'll find all kinds of tasks to use it for!
---
~Linda Griepentrog is the owner of G Wiz Creative Services and she does writing, editing and designing for companies in the sewing, crafting and quilting industries. In addition, she escorts fabric shopping tours to Hong Kong. She lives at the Oregon Coast with her husband Keith, and three dogs, Yohnuh, Abby, and Lizzie. Contact her at .