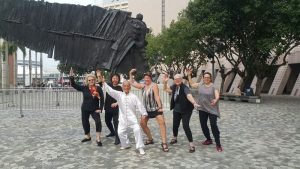 I'd never been to more than four states and I was thinking about going to the other side of the world, all by myself. Was I crazy? The caveat was that I 'd be with other sewers and two experienced guides. What was the worst that could happen? Maybe I'd get lost in a foreign country—oh, wait, they speak English there.
I ordered my passport early and when it came, I thought "this is for real." And it was…fast forward several months and I met Linda and Pauline at the San Francisco Airport, ready to take off on my big adventure. It was a long flight but, alas, that's the only reasonable way to get there and anticipation was building among all the group members as to what we might find—certainly silks couldn't be far away.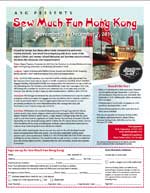 We had an effortless trip from the airport to the hotel, and some much needed sleep, only to wake to a sumptuous breakfast buffet with foods from Japan, China and familiar American favorites… and we could eat all we wanted. Wow!
Our orientation meeting covered everything we needed to know, from money conversion to local customs, food, etc. I still couldn't believe that I was half way around the world! Our sightseeing tour showed us the city highlights, including Western Market—a mecca of fabric vendors—some marketplaces and shops, and notable city sights. It was exhausting, but I thought I'd retire early that night to catch up. Oh no, several people wanted to go out for dinner, so I went along. I didn't know them, but it didn't matter, as we all sewed and that was a common bond. And, we didn't get lost!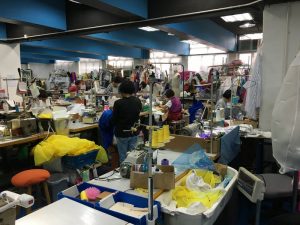 One of the things I most looked forward to was our visit to the costume shop, where Disney characters came to life and we learned the ins and outs of inflatable costuming. And, oh, did I mention the big remnant sale?
As the week progressed we learned how to work the MTR system (underground transportation) so we could get around the city on our own during the free days. Easy-peasy with the Octopus Card that's used everywhere. All the maps were in English, so no worries. OMG, I'm traveling around a huge city in a foreign country.
The highlight of my trip was visiting the garment district—like NOTHING I'd ever seen before. With both street vendors and stores, most of us couldn't drag any more purchases by the time we met back at the bus. (OK, true confession–I headed back there with a group of fellow tour participants on one of my free days, as one day wasn't enough.)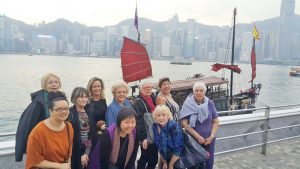 Our dinner cruise to Lamma Island was a treat, as we ate family style at a restaurant frequented by locals (not tourists), so we had the "real deal." On the boat ride home, we watched the laser light show on Victoria Harbor.
I was never apprehensive about the city and Linda and Pauline told us everything we needed to know—not just about the tour activities, but also about optional things to do and places to go. I was a master of the MTR system by the time we left this wonderful city. The tour was wonderful and I fell in love with Hong Kong. I'm hoping to go back on my own soon.
ASG Member – KT, Portland, OR
Visit the Sew Fun Tours page to learn about all the tours offered by ASG.