High Top Sneaker Bags
When American Sewing Guild member Donna Fleming brought her "high top sneaker" bags to an ASG Princeton Chapter meeting, she certainly caused quite a stir among those who were there.  Everyone wanted to check out these adorable bags she created for her granddaughters.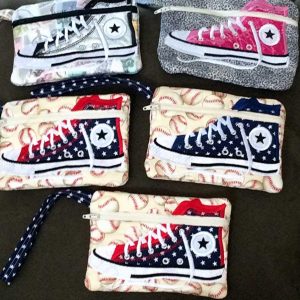 The bags feature great detail, yet are very simple to make using the downloadable in the hoop (ITH) embroidery designs from Disorderly Threads. Donna promised that the instructions were easy to follow, and those who later went to the site and purchased patterns from them confirmed that the instructions were exactly as Donna described. Each design comes with its own set of clearly written procedures featuring pictures every step along the way to guide even the novice machine embroiderer to success through embroidery and applique aspects of the designs.
More than Sneakers
As soon as Donna mentioned the site where she purchased the sneaker pattern, phones immediately appeared so their owners could check it out.  And what designs there were—391 of them, featuring a wide variety of interests. There are cats, dogs, chickens, bears, dolphins, squirrels, bunnies, foxes, and more for the animal lovers. Not interested in animals? There are corsets, campers, slot machines, motorcycles, police cars, school buses, lips, spiders, fire hydrants, shoes, unicorns, sewing machines, sugar skulls, hamburgers, wine glasses, and even a British police call box that is sure to delight any Dr. Who fan. The bags come in several sizes beginning small for the 4 x 4 hoop, then the 5 x 7, and even a 6 x 8.5.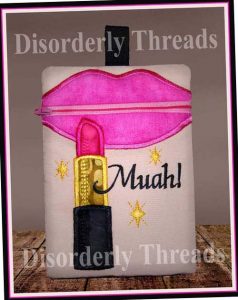 While most of those going to the site initially wanted to get the sneaker pattern, the vast array of designs lead everyone to purchase a different favorite. In all cases, the designs stitched out well with no problems with alignment. The completed bags are fully lined with no exposed seams. Once the project is popped out of the hoop and turned, it is ready for use.  One word of caution, however; the designs are multi-stepped, so don't expect to finish in 10 minutes. Everyone agreed that the completed bag was well worth the time spent to create it.
Even if you are not a machine embroiderer, check out these whimsical designs at www.etsy.com/shop/DisorderlyThreads. Just scanning through the listings is sure to bring a smile to your day.  Now celebrate February, National Embroidery Month, and get started on your own embroidery project.