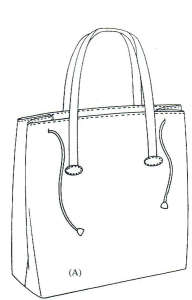 Here's a simple canvas bag to take you into summer, yet is versatile enough to use the rest of the year as well! The basic 16″ x 14″ canvas bag, trimmed with faux leather, can be customized to create a bag that perfectly suits you. Add an embroidered monogram, spell out a child's name with colorful fabric paints, or stencil pastel sea shells on off-white canvas to personalize the bag. (A)
Faux leather trim adds a classy touch and is far easier to sew than real leather. It's also durable, doesn't crack easily, and is fade and stain resistant.
Read more (requires member login)
The complete version of this article is available on the ASG Members Only blog.
CLICK HERE to read the full article. Not a member? Join online!