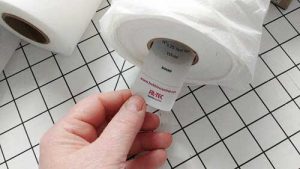 Like most sewing enthusiasts, I have sewing and embroidery supplies that I use over and over because they work well for many different applications. This is especially true for interfacings and embroidery stabilizers. To keep track of my supplies, I normally take the label off the outside of the roll and insert it inside the tube so I know what the product is. I have actually ordered a couple of things on the recommendation of a sales person and found I didn't care for them and I want to be sure I do not re-order them—that is just as important to know as what I do like.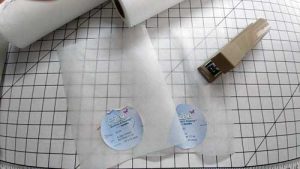 This morning when I reached for the rolls of my favorite fibrous water soluble and poly-mesh stabilizers to grab the tags to re-order, I found that one roll was missing its label – horror of horrors! I searched the distributor's website and still couldn't find the product so now the search is on through packing slips and websites to try to identify the product. I even tried to locate a sample pack, hoping I may find my beloved stabilizer within it, but no luck.
That action though, gave me an idea. Right then and there, I vowed to prevent this sewing malfunction from happening to me again by making my own sample pack. I cut large pieces of each product and stapled the label to the corresponding sample. While I still have to find the one product with the missing label, luckily it is not something I need to re-order immediately.
I also plan on doing the same with my favorite interfacings. I'm working on two series right now that require a lot of interfacing and, because I use so much, I tend to purchase my favorites by the bolt. Of course, there are no labels to peel off packaging to save so I can do one of two things:
Take a photo of the label, print it, and staple it to the sample I cut off the bolt, or
Wait until I get to the end of the bolt, save a final piece, and then peel the label off the end of the bolt and staple it to the sample piece.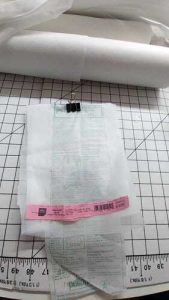 Knowing me, chances are by the time I get to the end of the bolt I'll forget to save a piece and keep the label so I'll probably opt for option 1. Another good thing to do is save a piece of the instructions that come on the interfacing bolt. Read and check them each time you purchase the product. Occasionally, as technology is updated, products may change slightly (think better glue) and instructions will be updated. If the interfacing is a specialty item like Hymo, then also attach information about where the product was purchased and any other identifying information
We always think we'll remember what we did or where we purchased something, but we often don't. Start making another type of reminder for sewing. Put information in a binder or even just clip things together like in this sample pack. Save yourself a lot of remembering and searching time which, of course, leaves more time for our favorite pastime—STITCHING!
Sew 'til next time….enjoy the journey of sewing!
~Ramona