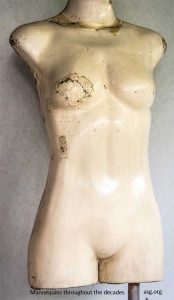 When mannequins were first introduced to storefront windows around the 1850's in France, they were heavy beasts made of iron, wood and wax. The latter, as you could imagine, melted and the forms held stiff poses and were easily broken. In America, the stiffness relaxed in the early 1900s but the Women's Christian Temperance Union's view of them did not. The group took offense as apparently even these less-than-lifelike body replicas were too revealing when used to sell corsets. Some cities even passed laws that required store windows to be covered while mannequins were dressed and undressed.
New Materials
In the 1930s, the faux bodies became lighter as thin material enveloped metal skeletons and limbs were easier to reposition. Earlier, and for decades to come, mannequins reflected bodies and faces of recognizable celebrities. Plastic bodies were introduced during WWII but to ill effect. A chemical reaction from display windows turned mannequins green. During those war years, the mannequins were also hit by rationing; shorter and slimmer mannequins were the norm, but only for a few years. Once troops returned, plumped-up, voluptuous mannequins welcomed the soldiers home.
Soon thereafter, nipples became a no-no and those anatomically accurate nubs were sanded off of older mannequins. They become acceptable again in the 1960s, which also brought us silhouettes resembling Marilyn Monroe and her often unachievable hourglass shape. Barbie, with her much narrower waist, debuted at the end of the decade. Later, a 1990's study revealed that mannequins from the '60s had smaller arm, hip, and thigh circumferences than their pre-WWII counterparts.

Changing Body Styles
Sturdier fiberglass produced lighter mannequins in the '70s and waif-like Twiggy influenced the shape. Celebrity bodies and faces were replaced with mannequins that sprouted heads with expressionless faces. Jane Fonda and the aerobics era arrived in the '80s and influenced mannequins with more toned body shapes. As that decade came to a close the movie Mannequin hit theaters.
Sporty gave way to waif again, or rather the sickly stick-thin figures of the 1990s and model Kate Moss. Even so, plus-sized mannequins emerged. Characteristically, they weren't accurate representations of women's bodies but amplified proportions of existing mannequins. The century turned and manufacturers churned out ubiquitous forms that, like the Grinch's heart, were two sizes too small. The average American female body was size 14, according to the Centers for Disease Control. Mannequins were sized 8-10.
The winds of change blew and today's mannequins are more diverse.
Curvier plus-sized shapes. Mannequins in wheelchairs. With freckles. Wearing hijabs. A better reflection of women in today's world. It also has become easier to create new mannequins. Traditional manufactured forms are several hundred dollars each making it costly to replace an army of store mannequins. Today's 3-D scanning and printing can produce different – and realistic – shapes faster and at lower costs.
Interested in reading more?
---
~Pamela Lardinois, Milwaukee ASG Off The Cuff, Apr/May 2019
Copyright © All content is copyrighted to the author and may only be reprinted with permission.