I Want to Teach the World to Sew!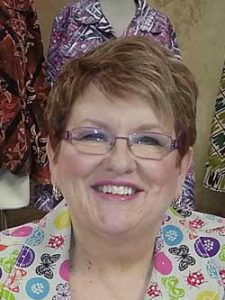 That's the mantra of sewing icon Janet Pray, educator, designer, and owner of Islander Sewing Systems. Her passion for all things sewing is evident wherever you find her—and she can be found in the classroom, on her website, on Facebook, and on Bluprint. Her comprehensive knowledge of sewing and her dry, quick humor puts her name on the top of the list for ASG chapter events as well as for conference instructor.
Concerning her mantra, Janet says, "It always seems so cliché, but it's true for me. I loved the idea of sewing from the age of 5. When I first saw my grandmother create a doll dress without a pattern right in front of my eyes, I thought it was nearly magic!"
Growing Up Sewing
At age ten Janet made it her mission to learn how to sew from her grandmother who lived more than 200 miles away. Each time she visited, she would take a new project that included a technique she wanted to learn. She recalled one visit when she wanted to learn how to install a zipper. "I took a break to play outside and when I returned, much to my disappointment, grandma had installed the zipper—perfectly, of course. I realized then I had never told her of my motives to learn the process. When she knew I really wanted to learn, it was game-on!"  She soon turned this passion for learning into one of sharing that knowledge with the world.
As a pre-teen she had the opportunity to spend the summer in Southern California with her aunt, Margaret Islander. Janet enjoyed going to work with her aunt one evening a week where she would see the industrial equipment used to train sewing machine operators for the garment industry. Over the years Margaret would share the industrial techniques that Janet later incorporated into her own ready to wear business. Janet credits these sewing techniques to eventually allow her to hire private contractors to sew her products. "These contractors were really home sewers until I taught them industry techniques that allowed them to sew from home and make a very reasonable hourly wage. I paid them by the piece but taught them the fastest way to make it. Win-win!"

Janet continued, "During the years I was conducting my sewing production business, I would often accompany Margaret when she was invited to teach at trade shows and special events. Her style of teaching was enthusiastic and engaging and I always try to carry on that tradition. When Margaret retired, she asked me to continue her mission to teach home sewers that sewing can be more fun, faster and better, than they know. What an honor and a pleasure for me to share all of her special information and now some of my own, with other sewers. I am one of the lucky ones who work at what we love; and, therefore, it doesn't even seem like work, more like play. When I share this information I can see it in the eyes of the students how excited and happy they are to know a better way to sew. I cannot imagine enjoying anything more, and I feel so blessed to be on this mission, all I can say is: I want to teach the world to sew!"
Tuesdays at Two
While Janet continues to teach around the country, she has also embraced the new platform of social media. Each week Janet and her daughter Jessica do a live Facebook presentation called Tuesdays at Two. (That's 2 eastern time.)  This hour long presentation is a warm interaction between mother and daughter sharing sewing tips, techniques, and even sew-alongs. Coming up on October 22 will be the very popular Islander Shirt, a camp style shirt for both men and women. Also in the works is their Baja hoody pullover.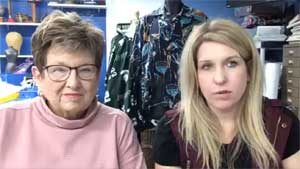 While Janet does the sewing demonstration, Jessica is hard at work monitoring comments and questions from viewers. The excellent visual quality gives viewers a great opportunity to not only see exactly how the construction should be done, but also the ability to ask questions in real time. And if you miss the live show, don't despair, Janet has all episodes archived on the Facebook page and there is even a searchable directory now. For the archived list of episodes, go to her website www.islandersewing.com.
And on the topic of her website, in addition to her books and videos, you can also find quality fabrics, notions, and patterns. The Islander Patterns are classic, comfortable styles that work with any wardrobe. However, there is a definite difference in the pattern itself. While the traditional pattern companies have that large, awkward pattern instruction sheet, Janet has chosen to put her instructions in a booklet. This allows her to use actual pictures of the construction process which is excellent for the visual learner. And what's even better, the newer patterns are color coded. Her well written, easy to follow instructions are also very different from the traditional patterns in another way. Her goal has always been "better, faster, easier" and her instructions reflect this goal. She not only uses industrial time saving techniques for sewing, but she also emphasizes sequencing steps. She said, "My patterns are designed to be constructed using techniques that do not require pins or basting. Seldom do my patterns have any hand stitching at all. Seam allowances are specific to the operation never needing trimming. (i.e. sew seam at 5/8 next step, trim to ¼"). My newer pattern guides are designed with my exclusive "Express" method of construction. This is where I cut down on the back-and-forth from machine to iron by a new order of construction, sewing as many pieces as possible before pressing and pressing as many pieces as possible before sewing."   The instructions give much more than simple construction steps, they are a whole new, EASIER way to sew.
Fashion Patterns by Coni
In addition to her own Islander Patterns, Janet also offers patterns from designer Connie Crawford, of Fashion Patterns By Coni, a company she purchased last year. Janet commented on the purchase, "Just like Margaret's work, Connie's products are too important to let go. So I am proud to have brought together the very best in drafting and fitting with the very best in construction and teaching."

Janet was referring to Connie's six year study to create better sizing for plus sizes that resulted in patterns that fit the larger sized woman rather than simply scaling up all over. So with Janet's designs featuring sizes from very small to 4X and Connie's designs going to 6X, www.islandersewing.com is one of the only places to go for those seeking larger size styling as well as the traditional sizes.
When asked what advice she would like to share, she wanted to encourage people to purchase a good quality sewing machine and not be lured into purchasing  a low end machine. While not endorsing any particular brand, she said that the better machines produce a more uniform stitch and feed the fabric better so that the operator does not have to struggle with the machine. "Low quality machines cause the new sewer to be discouraged because she/he thinks it's their inability to sew well and it's really the machine's. Even my sewing is unsatisfactory using a low quality machine. "
Awards
Janet is the recipient of the 2012 Association of Sewing and Design Professionals – Life Time Achievement Award as well as ASG's Sewing Hall of Fame for 2017.
Janet is a long time ASG member in the Detroit Chapter and offers fellow ASG members a generous 20% discount off books, DVDs, and patterns at www.islandersewing.com.  Visit the Special Offers section in the Members Only area for the discount code. A limited number of kits for the Islander Shirt that will be the subject of her sew-along on October 22, 2019 are also available.
---
~ Rosemary Fajgier
The American Sewing Guild is truly fortunate to be able to count many gifted sewing designers and instructors among our friends, members, and supporters.  Throughout this coming year we will be featuring some of them in our Notions Blog.  We hope you will enjoy reading about them and take the opportunity to get to know them better and explore their many talents by visiting their websites, taking their classes, and discovering the wide variety of designs they bring to the home sewing market.