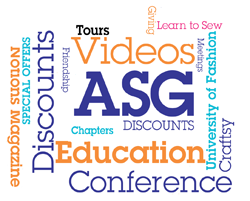 ASG is made up of Chapters, Neighborhood Groups and Members at Large. Local chapters host social events such as fashion shows and sewing fairs and many offer sewing related service projects for their community. Our website offers educational videos, projects and more. All members can increase their confidence, expand their skills, enjoy the annual Conference and take advantage of discounts available only to members. Join today to begin making your own difference!
Chapters and special interest groups often meet and offer opportunities for educational, social and philanthropic programs. In addition, we have a youth program for sewing enthusiasts through age 17 and extending up to age 22 for registered college students.

Unlimited access to a library of online sewing classes
Discounts on sewing products and services
Frequent articles, projects and more in the Notions blog
Travel with sewing friends on Sew Much Fun tours
Join us at our annual Conference
Make new sewing friends… and more!
Learn more about ASG