ASG members enjoy not only the opportunity to connect with other local sewing enthusiasts, but also dedicated education in the form of chapter events and resources, over 150 free online technique and project videos, discounts and special offers from your favorite sewing vendors, the weekly emailed Notions newsletter, and sew much more. Become a member today!
Chapter Meetings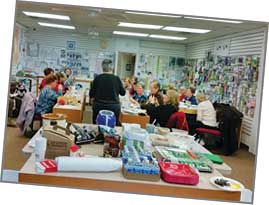 Chapters are a community of people who are excited about sewing. All kinds of people! Some have advanced or professional sewing skills. Some are novices at the beginner level, and the majority fall somewhere between those two levels. They want to learn new skills, they want sewing friends to share their successes and challenges, and they want to belong to a group that will support their adventures in sewing.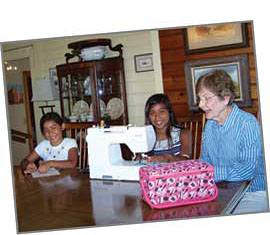 Chapters come in all sizes – larger chapters often sponsor quarterly chapter-wide special events that may feature local or national speakers, member fashion shows, or specialty workshops. Some chapters also sponsor many smaller neighborhood or special interest groups within the larger structure which meet more frequently (usually monthly). Smaller chapters may meet on a monthly basis as one group. Often, these local Neighborhood Groups provide opportunities for sharing ideas and "hands-on" sewing experiences in a smaller, more social atmosphere.
Online Sewing Classes and Special Events
Whether you're new to sewing, returning to sewing, looking to advance your sewing skills or just want to participate in on virtual group meetings, you will find ASG's free online sewing classes and programs a major benefit of membership.
Discounts & Special Offers
Many local retailers offer discounts to ASG members. Be sure to ask when you shop, "Do you offer an ASG discount?"  The offers are made in appreciation of your membership in ASG and your dedication to sewing as an art and life skill. Offers come in the form of discounts, free item with purchase, free shipping and more.
Conference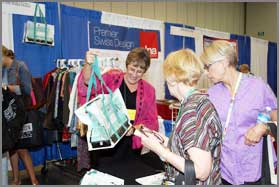 ASG members pay a special member's price for conference registration where attendees participate in workshops and seminars taught by nationally recognized professionals. Members may also shop the Exhibit Hall, enjoy special events and attend optional workshops and tours. Visit our Conference page for more information.
Communication
Members receive regular emails with news, articles and more.  In addition, most ASG Chapters publish a regular newsletter that communicates local Chapter events, neighborhood group locations and activities, lists of discounts with retailers and features special interest articles.