When my 40-something son, Todd, invited me to join him on a Mount Kilimanjaro climb, I thought about it, laughed, and then declined. I am too much of a risk, even though others my age and older have done it. When he said he would like a banner of some kind to wave when he reached the summit, I knew I had a job!
Climbing for a purpose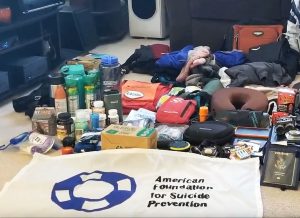 Todd was training and climbing for a purpose… suicide prevention. And yes, he had recently lost a high school classmate. He would pay all his expenses himself and was hoping he could raise money for the American Foundation for Suicide Prevention. It took me a while to realize that their logo is a life preserver. I found the logo on the ASFP web page and copied, enlarged and printed it, and used Steam-a- Seam to trace it and iron it to a piece of nylon ripstop. I wanted it to be lightweight, yet big enough to be a banner. Sewing down the letters was a bit tedious, but he was really excited about it, so that gave me energy. In the meantime, I also sent the ASFP logo to a digitizer and was able to embroider out a couple of patches, which he could put on his jacket, as did his hiking partner. He had invited several people to train with him.
"Since he was raising money for a worthy cause, I started thinking about what else I could do with my trusty sewing machine and years of sewing guild meetings, where we share skills and ideas."
Aha! Pocket Tissue covers! I have great fun making these and giving them out! I printed out the AFSP logo, using the mailing label size, and June Tailor Colorfast Sew-In Fabric Sheets for Ink Jet Printers. Now I had the logos on cloth! So, I cut them apart and added dark blue batiks around them, in order to make pocket tissue holders (definitely from a Neighborhood Group meeting!!).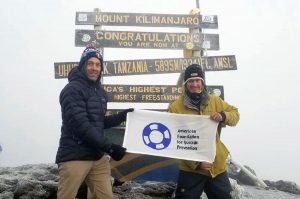 I also started obsessing about a picture of the mountain… so once again I went to the computer and printed an image out on cloth, added some more grass and some sky from my stash, and made it an outside pocket on a bag which would be big enough to hold the banner.
I made about a dozen tissue holders and mailed them and the new bag to Todd in Massachusetts so he could give them to friends and co-workers who made donations to AFSP.
Time to climb
In the meantime, he was training. Every weekend was devoted to climbing somewhere, and every bite of food was recorded on an app on his phone. He used a special mask that helped him prepare for the altitude sickness that interferes with many climbers. He got his shots. He made his reservations. He chose a plan that took eight days and used a team of guides and porters, who carried the tents and food, prepared the meals and took care of the details. Todd and his partners carried their personal gear. One of his partners made a valiant try at the climb, but when they reached the high altitudes, her asthma made continuing impossible and she turned back (with one of the porters as a guide). Todd texted and even called during the climb (of course at odd hours…) and had brought along a solar-powered charger for his phone. We were able to follow along, and knew which day he would summit (who knew summit is a verb?).
He has since put together a slide show and showed it to us at a celebration party after his return. Lots of pictures of the banner! I'm so glad it is over. And so proud!
---
~ Judy Spinney, North Jersey Chapter