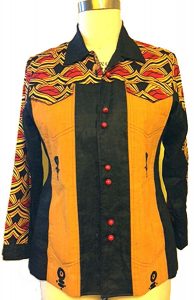 There are lots of ways you can exercise your creativity to transform your everyday garment sewing to fabulous and unique. 
Consider these ideas, whether sewing a garment from scratch or upcycling a ready-to-wear piece that's a bit on the uninteresting side.
Use more than one fabric when you are making a new garment. Using different and maybe "focus" fabric in a panel, yoke or collar, cuffs and button placket and turn it from ho-hum to really interesting and personal.
Replace the plain plastic buttons on a ready-to-wear shirt with a collection of mismatched buttons to make a garment unique.
Add a striped or gingham finding, cut on the bias, to all the edges of a blouse (for example -collar, cuffs, pocket, front edge, hem). Consider adding flashier buttons as a fun addition.
Change the color of the fabric you are using by dyeing it – or over dye a ready-to-wear garment if the garment doesn't suit you.
Change the opening on a garment you're making from a straight edge to a curvy or zigzagged one. The fit will not be affected with this change.
Piece or applique the fabric you are using to make some parts of the garment and it will become an individual expression of your taste and style.
Whatever you do, start with a simple shape, make sure you fit the pattern and then unleash your inner Yves St. Laurent!
---
~Lorraine Torrence