A bias piping or cording between the lining and facing of a lined jacket or coat is an attractive addition. Make your own piping from purchased decorative cording or use bias strips of contrasting lining, polyester, silk, or any other silky woven fabric. One-quarter yard of fabric makes a lot of bias, and cord or yarn can be used as a filler in the piping.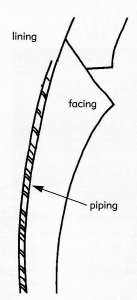 The complete version of this article is available on the ASG Members Only blog and requires member login.
CLICK HERE to read the full article. Not a member? Join online!