ASG Fabric Design Contest, Part 2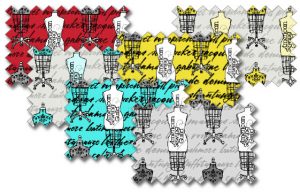 The first part of the Fabric Design contest resulted in this beautiful winning fabric that comes with 3 coordinating fabrics. Now ASG members have the opportunity to participate in the second part of this contest by creating something from the winning fabric. Simply order the fabric and create something featuring the winning design. You can make a garment, a craft, a quilt, a home décor piece, an accessory, or anything you want as long as it features the winning fabric design. There is no minimum yardage requirement. The only stipulation is that the fabric with the ASG logo must be easily visible, so no linings, interior pockets, etc.
---

Anyone Can Win is an equal opportunity contest because anyone who enters has a chance to win, regardless of sewing expertise or experience. The contest is open to ASG "over 18" members and anyone age 18 and under (U.S. residents only). If the entrant is not a Junior Member, the "18 and under" category needs an ASG sponsor. Winners are chosen at random.
---
2017 Anyone Can Win Slideshow