Clothing and Textile Manufacturer Registration Numbers
Mom needed a new pair of jeans. She gave me a pair that has a hole worn in the knee and asked that I just put a patch on them because they are good enough to wear around her apartment. As a dutiful daughter, I brought them home to repair them. The fabric is worn in more areas than the knee, though—Mom! You need some new jeans! Like many of us, Mom has had some medical issues and has a hard time finding a pair that had a looser elastic waist and simple, no fuss fit that she can just wear around her home.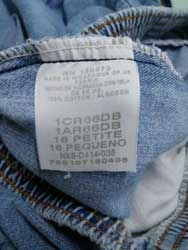 I looked for a brand tag, there wasn't one; however, there was a tag with an RN number, the registration number filed with the government by a manufacturer of clothing and textiles. It's not a required function, but is certainly nice when done by the manufacturer. The one we'll explore here is finding mom her jeans. Now, in doing this, one never knows what they'll find. As we all know, manufacturers do sometimes keep clothing pieces from season to season, but many times things are made only for a season or two and then changed or removed from the line altogether. No matter, I wanted to see if I could find Mom the jeans she enjoys.
I started at the Federal Trade Commission website, entered the RN number from the tag, and clicked the search button. The system returned one record, for VF Jeanswear Limited Partnership.
I now have a manufacturer's name. Clicking the blue link brings up additional information about the company and the location.
I then Googled the manufacturer's name, clicked the first link and went straight to the website for the manufacturer. The home page listed the company's  brands but did not show where the brands are sold.
I went back to Google and searched the company name and included the number at the bottom of the tag—which I surmised was the garment style or inventory or some other number used by the company to identify the style as being an elastic waist, pull on jean… and on the right of the search page, I found a link to the style number by the manufacturer!
I clicked on the link and and was taken to the store's website (Blain's) where I was able to order mom two new pair of jeans.
I could have asked her where she got them, but then I wouldn't have an educational blog to share with you and most of all, these new jeans wouldn't be a surprise for Mom! Shhhhhh—please don't tell her! I know she'll be thrilled when they arrive in her mailbox next week.
Sew 'til next time…enjoy the journey of sewing!
~Ramona