Perhaps you use your serger only for making neatly finished seams—but there's so many other things you can do with it. One of my favorites is a rolled hem.
Whether you're creating beautiful edges on napkins or silk scarves, or delicate hems on lingerie, the rolled hem is perfect to hide any "pokies" of thread along the edge. It's also ideal for quickly finishing ruffle edges.
On a Roll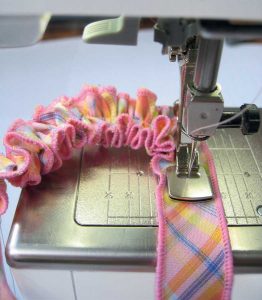 Before you begin the rolled hemming process, read your instruction manual for setting adjustments. Some brands of sergers utilize a different needle plate, others a separate foot or attachment, but common to all is altering settings so that the fabric edge rolls under. This is usually accomplished by making adjustments to the tension settings and stitch width, and using only one needle.
Narrow rolled hems can be stitched with regular serger thread or a novelty thread, like Woolly Nylon or a texturized polyester that fills in the stitched area. These threads will produce more of a satin stitch look to the edge, covering the entire fabric edge. Using rayon thread in the upper looper will produce an edge with a sheen, while texturized polyester thread creates a matte finished edge.
If your serger has a standard setting for a rolled hem, follow the instructions for its use. If you need to manually adjust, begin by using a narrow stitch finger for a perfect roll. Tighten the lower looper tension so that the fabric edge rolls under and is encased by the upper looper thread. You may need to adjust the needle tension to perfect the stitch. Shorten the stitch length to produce the look you want. It's all a matter of testing on the fabric you want to hem, as each fabric reacts differently. Softer fabrics roll easier than stiffer fabrics which may not roll at all.

Change it Up
For variation, try using a variegated thread, but note that you might produce a striped edge depending on the thread brand, as some threads are dyed in regular intervals, while others are dyed randomly.
In addition to creating a lovely edge finish, a narrow rolled hem can also be used to stitch a seam in delicate fabrics like lingerie tricot or sheers. Only the width of the stitch shows, creating an almost invisible seamline. To use as a seam, leave the stitch length slightly longer than for edge finishes to keep the seam soft and subtle.
---
~Linda Griepentrog
Linda is the owner of G Wiz Creative Services and she does writing, editing and designing for companies in the sewing, crafting and quilting industries. In addition, she escorts fabric shopping tours to Hong Kong. She lives at the Oregon Coast with her husband Keith, and two dogs, Yohnuh and Abby. Contact her at .