Jan Letkowski has proven that no matter how long you've been sewing, you are never too old to take on new challenges and learn new techniques. Known for her exquisitely tailored clothing since coordinating fashion shows for Harper's Fabrics in the 80s and 90s, plus many decades of sewing for her family and charity, Jan is now making seasonal liturgical banners up to 18 feet long for the St. Charles Borromeo parish in Gladstone.
The red banner for Pentecost was her first project, and features applique on the lectern banner. This banner is used for Pentecost Sunday and Confirmation Masses.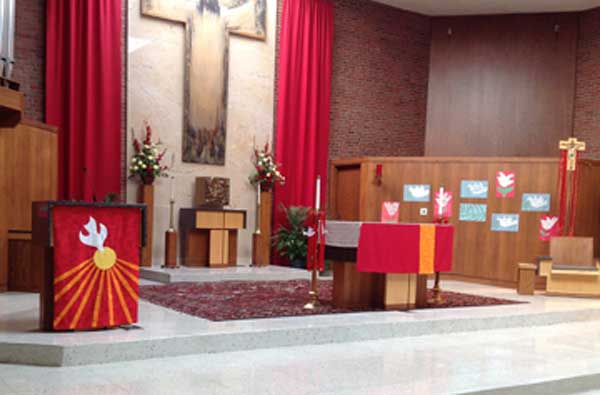 Ordinary Time is the longest period of the liturgical season and is represented by the color green. Jan chose to create the long panels with layered fabrics that complement the color of the marble and the Risen Christ Painting. The base fabric is purchased drapery panels stitched together to the length needed. Fabric with pleated stripes is attached underneath to result in a fluid design. The large banner called Together at Table represents a tree with leaves in various shades of green and prints. The branches were wrapped around batting and attached to the base to give a dimensional effect. The banner on the lectern is created with circles of all the fabrics used in this set.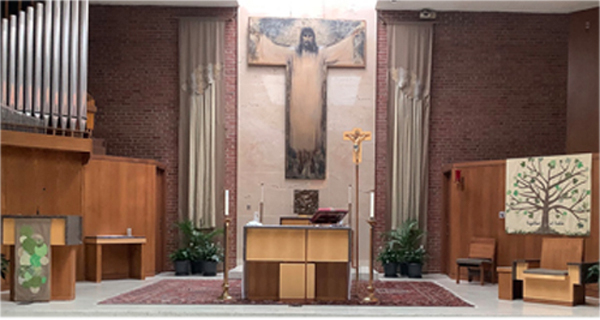 Students contributed autumn-colored paper leaves to the triptych of banners on a tan background.  The leaves are colored paper glued to paper like backing.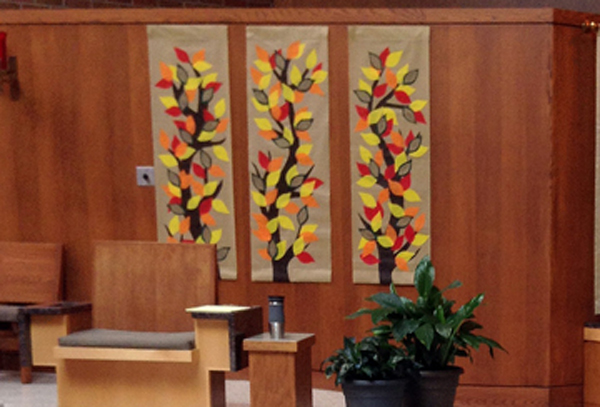 Particularly magnificent, the dark navy Advent banners are made from polyester dupioni with jelly roll strips sewn together and appliqued on for the gradated sections. Metallic vinyl ribbon was used for the stars, and the gold curve was achieved with two rows of gold double fold binding. The binding was unfolded and hand sewn to the base, with the creases in the tape adding interest to the design. These 17+ feet long banners are lined with matching polyester lining.
Student scholars also helped create the designs of the four coordinating Advent candles. They arranged shapes onto a black background to create a stained-glass look, and Jan appliqued them in place and added the flames made from the same gold trim used on large banners.
As a final service to the church, Jan is creating a notebook documenting the creation and care of the banners, to ensure they will be bright and beautiful for a long time.
Editor's Addition:
Are you looking for some direction on making liturgical items? We've found a few sources of information, fabrics, and instructions to help:
---
~Thanks to Phyllis Carlyle for sharing this information. Jan Letkowski is a decades long leader of the Northland Neighborhood Group  of the Kansas City, MO ASG chapter