It's likely that you've spotted a Cricut machine while browsing your local fabric and craft store. At first glance, it's difficult to figure out what the Cricut actually does, and even more difficult to figure out how it can help you with your sewing projects. But many sewing enthusiasts are calling the Cricut a must-have for their sewing rooms. Why?
It's important to note that there are several Cricut models. The current models are the Cricut Explore One, Cricut Explore Air, Cricut Explore Air 2, and the Cricut Maker. The Cricut Explore One is the most simplistic of the machines, with the most limited abilities. The Cricut Maker is the most advanced machine available.
At their core, Cricut machines are die-cutting machines, often used for scrapbooking and paper projects. But Cricut has taken the idea of a die-cutting machine and adapted it to work for a variety of handicrafts. With the Cricut, you can cut, score, draw and write using top-quality Cricut tools that are easy to switch out between projects. The Cricut Maker can cut paper, vinyl, leather, faux leather, fabric, cardstock, poster board, aluminum, canvas, cork, denim, felt, washi tape, wrapping paper, and much more. (Note: Be sure to check what materials your machine can cut based on the model you purchase.)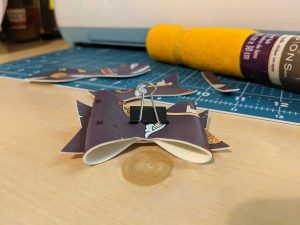 Cricut has also teamed up with Simplicity to offer hundreds of patterns for small sewing projects through Cricut's digital design program, Design Space!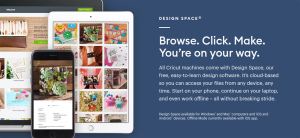 The Design Space program is downloaded to your computer and you plug your Cricut into your computer as well. To start a project, simply open the program, choose the project you want to work on, and follow Cricut's simple step-by-step directions. You can also upload your own patterns to Design Space to complete custom projects.
The standard Cricut cutting mat is 12" x 12", and you can purchase a cutting mat up to 24" x 12". Because of this, you are limited to the size of fabric you can cut, which is why the Cricut works best on small projects like baby or doll clothing, clutches, stuffed animals, ornaments, etc.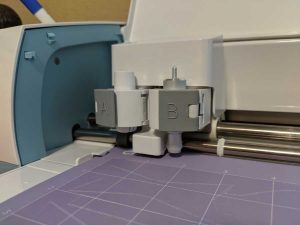 Design Space allows you to upload or use a pattern that aligns perfectly with the Cricut cutting mat, which is how the machine is able to cut so precisely. Once you've completed your design and installed the proper tool, like a cutting knife or rotary blade, all you have to do is place your fabric on the sticky cutting mat, enter it into the machine and push a few buttons. Forget all of the hand measuring and cutting, Cricut does the work for you!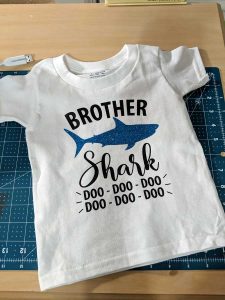 Cricut is constantly offering new tools and projects for users. They partnered with Riley Blake designs to offer quilt patterns and offer a variety of free and paid fabric projects on their own. They even have their own line of designer fabrics that are pre-cut to the size of their mats! But whatever you have in your stockpile will work just fine.
Not only can you cut fabric to make your sewing projects simpler, but you can use the Cricut to truly customize your projects with iron-on vinyl.
As an example, maybe you've just completed a pair of baby overalls as a gift. You used your Cricut maker to cut the denim and sewed the project to perfection. But you'd really like to make the project unique by adding the baby's name to the front of the bibs. You can head back to your computer and open up Design Space, type the baby's name, choosing your favorite font and sizing it to fit the project, and cut out your design on iron-on vinyl. Then, you simply have to iron on the decal you've made for the perfect final touch.
If you're looking for a new tool to customize your sewing projects, you may just want to add a Cricut Maker to your sewing wishlist. With an ever-expanding library of tools, projects, resources, and products, more sewists are jumping on the Cricut bandwagon! Will you be one of them?