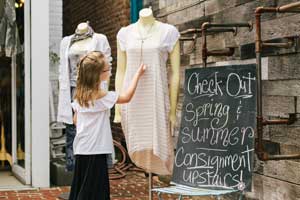 Every sewer seems to have a bit of a thrifty soul…whether it's finding a great fabric at a bargain price or reusing something to create something new. An easy way to do both of those virtuous tasks is to shop thrift stores. We're not suggesting that you do that as your sole source for sewing things, but the occasional bargain safari is good for the soul (and lots of fun, too!).
If you're of a certain age, you might remember when thrift stores were dank places with bad smells, and no one wanted to be seen there, but that's all changed. Today's stores have coffee bars and trendy cafés, they take credit cards and offer frequent buyer clubs.
So, what's the pursuit? Sewing stuff, of course. Your fab finds can fall into three categories—things you can use as-is now, items to creatively repurpose, and those for "harvesting" parts (i.e. fabric, trim, buttons, clever closures, handles, etc.).
Most thrift stores have a sewing department with patterns, fabric, notions, yarns, etc. cast off by someone no longer in need of the treasures you may be hunting for, but don't stop there—look in all the departments.
Strategize Your Shopping
There are some great strategies to follow when you shop at thrift stores. Take a look:
Check for coupons and discount days, like 50% off a certain tag color or a senior discount. Some stores offer sales with a single fee for an entire bagful. Thousands of buttons can fit into a bag for a buck!
If you like something, put it in your cart when you find it. Another creative sewer might be right behind you. After consideration, if you decide not to get it, put it back where you found it.
Visit all the departments—including linens, home décor, handbags, and accessories. Check men's and women's areas for large size items that can yield more fabric. Large men's baggy jeans can yield a lot of great denim. Look for items with pleated and gathered skirts, full sleeves, etc. to maximize the usable fabric. Worth noting: Old sheets provide great fabric for test-fitting.
Be sure to check for any damage or stains, and on window treatments looks for any fading or sun deterioration.
Bring a tape measure to assess items. If it's a garment you plan to wear as-is or repurpose, try it on. Some stores allow for try-ons, others don't. If not, check the store's return policy.
Wash or dry clean your finds before using to preshrink and help avoid color transfer to other fabrics.
Ask if your favorite thrift store has an outlet. The outlet is where unsold items from the regular stores go, and things are often sold by the pound—a highly competitive atmosphere. Note: It takes lots of silk to make a pound!
 Fav Finds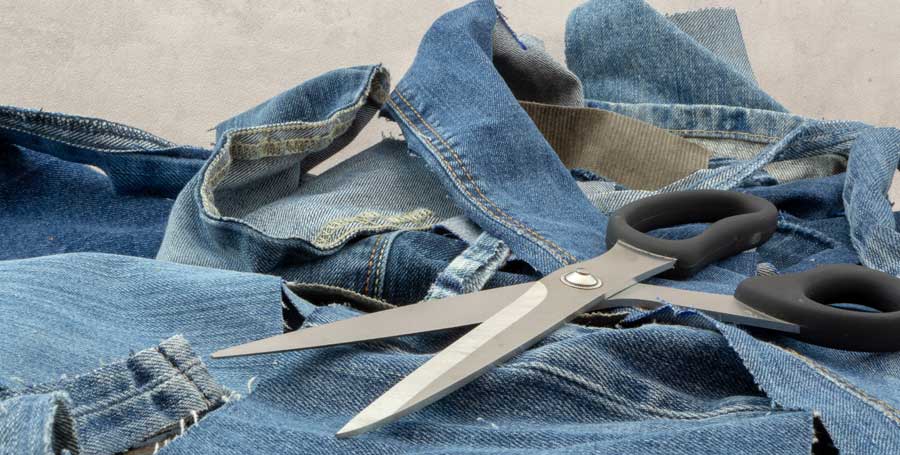 Jeans, with their fun (done) details like waistbands, pockets and zippers, are perfect for pieced skirts and casual handbags. Multiple shades of denim can be easily combined in one project.
The domestics department is the place to check out curtains, drapes and bed linens. Sheer curtains are great petticoats (or overskirts) for evening-wear.
Handbag leather handles, metal findings, latches, zippers, pulls, pockets and linings are perfect for incorporating into newly sewn bags.
Men's silk ties are ideal for piping, covering buttons or piecing for a garment or accessory. Take out the insides and you have bias-cut fabric ready to go. Keep the interfacings for another use.
Men's suit details like welt pockets, lapels, fly zippers and linings are great to incorporate into re-do items.
Wool (or mostly wool) sweaters are easily felted and transformed into new things, from mittens to wine cozies, garment sections and home decorating accents.
Old laces are ideal to repurpose for garment accents, whether yardage or a vintage doily.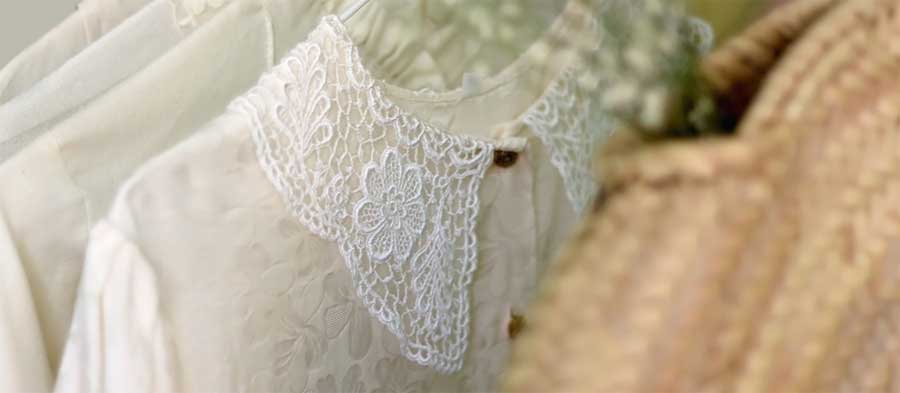 In all your thrifting adventures, enjoy the hunt and open your mind to the creative aspects of reusing the treasures you find. Sewists are so lucky to be able to use their skills for creative purposes and see new life in old things!
---
~Linda Griepentrog
Linda is the owner of G Wiz Creative Services and she does writing, editing and designing for companies in the sewing, crafting and quilting industries. In addition, she escorts fabric shopping tours to Hong Kong. She lives at the Oregon Coast with her husband Keith, and two dogs, Yohnuh and Abby. Contact her at .