Hand Sewing: Needle Knowledge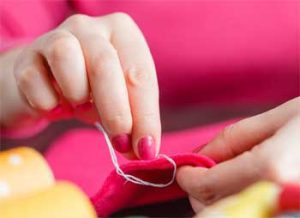 Although some sewists will do just about anything to avoid sewing something by hand, most will inevitably face times when hand sewing will be necessary to complete a project. Knowing which needle to choose for the project makes the task of hand sewing much easier. In this article, we look at the basics of hand sewing needles.
Hand sewing needles come in various sizes, lengths, shapes, points with each element focused on giving the best results with various types of projects. In all varieties, the size relates to the shaft of the needle.
The larger the number, the shorter and finer the shaft of the needle and the smaller the eye.
As a rule of thumb, the finer the fabric you are working with, the finer the needle (larger size number) you will want to use.  Here are a few needle types you may want to keep in your stash.
Sharps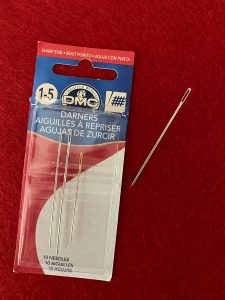 If you only have one type of needle in your stash, choose a Sharp. These are a good general-purpose needle with a nice sharp point, a round eye, and medium length. They come with either a single eye or double eye for those times when you might want to use two strands of thread. A double-eyed needle comes in a variety of sizes and allows you to carry two strands of thread without stressing the fabric with undue friction. These will be useful for several types of sewing including dressmaking, appliqué, hand piecing, and patchwork. Choose sizes 2-4 for medium to heavy weight fabrics; sizes 5-10 for medium to light weight fabrics; and sizes 11-12 for fine fabrics and for creating small, delicate stitches.
Quilting (a.k.a Betweens)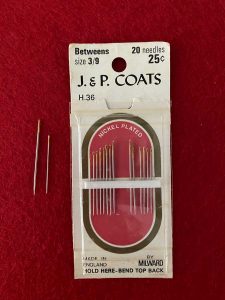 Betweens work very well for their intended purpose, which is to assist quilters in making quick, even stitches through several layers of fabric. They are easy to control and result in very small holes in the fabric. Sizes typically range from 5 to 12, but beginners may do best with a size 7 or 8. The traditional style of quilting between needles is short and has a small, rounded eye.  However, if the smaller eye is a problem, you can also find them with a large eye for easier threading, generally available in size 10.
Ball Point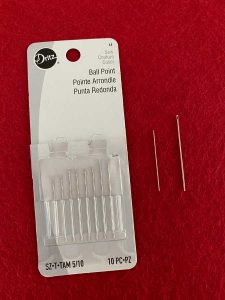 Ball points are designed specifically for sewing knits. They have a slightly rounded tip that glides between the yarns of knit fabric, thus making small holes and protecting against breaking the knit fibers. As opposed to a sharp point that may pierce the fabric, the rounded ends of these ball point needles push the knit loops apart, making it easy for you to sew. Ballpoint needles are generally a poor choice for woven fabrics since the rounded tip will not cleanly pierce through the weave.
Darners
Darner needles are large, not as sharp, have a long, large eye to accommodate larger threads like yarn and embroidery floss, and come in fewer sizes than other needles. Darner styles include  short cotton darners, yarn darners, and long darning needles. They are primarily used, as the name implies, for mending and darning, but they can also be used for making long, quick basting stitches.
Embroidery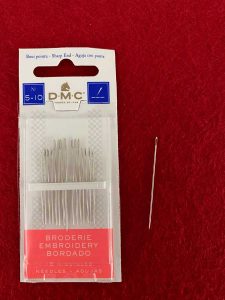 Embroidery needles are basically a Sharps needle with a longer eye. They are designed for things like smocking, heirloom sewing and embroidery, but can also be used in every day sewing. Their longer eye can accommodate different types of thread and make threading the needle much easier. The most popular sizes for these needles are sizes 7 and 9.
Keeping Things Organized
With all the various types of needles, it can be easy to lose track of what type you have in your stash unless you have a system for keeping them organized. Here are some ideas for how to keep your needles organized:
Put them back into the packaging they came in.
Make a "needle book" from squares of labeled felt
Convert a multi-day pill container to a needle organizer by placing a label over the day of the week to identify the type and size of needle.
Purchase a needle storage pack, like the Hand Needle Pack from Colonial Needle to sort and store hand needles. The Hand Needle Pack is pre-printed with types and sizes to store up to 12 types of needles. (Tip: ASG Members can access a discount for Colonial Needle in the Special Offers section of ASG.org)
Purchase a tomato-shaped needle cushion like the Clover Sort & Store. Or, create one yourself by using your own tomato-style pin cushion and a sharpie to label sections for each type of needle (an ASG member idea!).
Regardless of the method you choose, now that you understand that each needle has its own purpose, you can see the importance of keeping them separate and organized.
We hope this article has helped you learn a few new things that are helpful to your hand sewing as well!
---
~Sheryl Belson, ASG Member