It goes without saying that we love to sew with friends—after all, that's why we're members of ASG! But getting away from your usual locale and sewing with friends is twice as nice. Think about attending a sewing retreat.
A sewing retreat can be organized by a group of friends, by your chapter, by a business (think fabric store, quilt shop, etc., or by a teacher) and it can be at the business location or some other beckoning destination like the coast, mountains, etc. Sewists can fly or drive to the destination, depending on proximity. Before you sign up for a sewing adventure though, be sure you know exactly what you're getting. Another great "retreat" option — albeit on a larger scale and full of education, social events, tours, and more — is, of course, ASG Conference.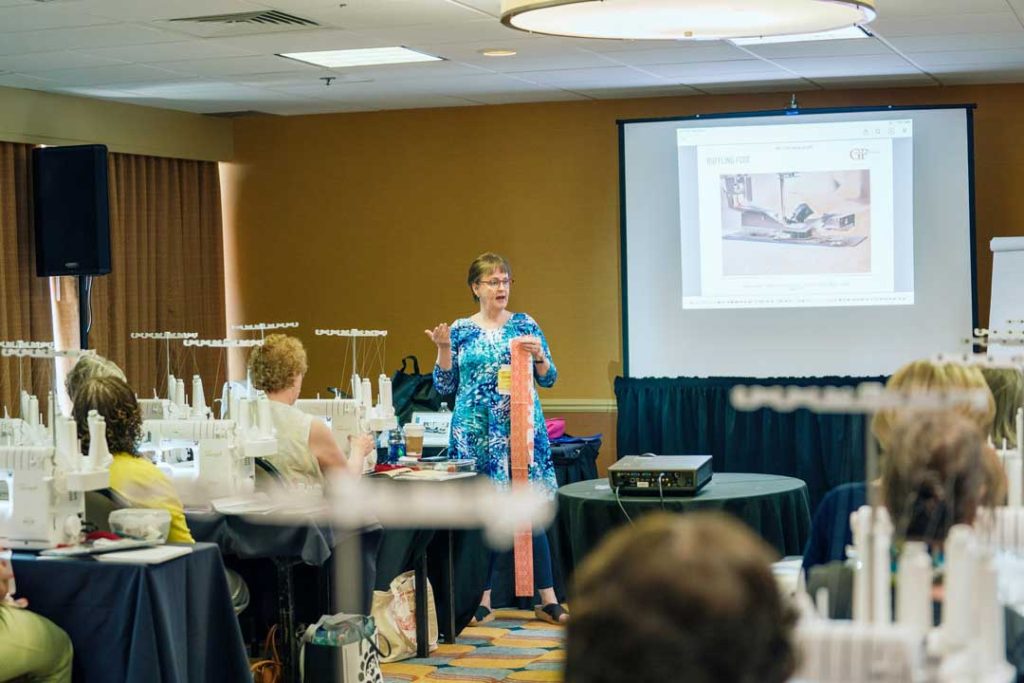 What is the cost of the retreat?
Are you paying a single fee for an all-inclusive package, or are you paying individually for things on-site? If it's the former, be sure you know exactly what the fee includes, and the cancellation policies of the group or person organizing the adventure. Is full payment due at the time of sign-up, or can you pay multiple payments over time?
How will you get there?
If the retreat is away from your home town, how you get there can greatly influence what you might be able to take with you. Transporting a large sewing or embroidery machine on a plane can be troublesome for both you and the machine. If you're going cross-county for a getaway, check with the event organizer to see if a machine can be rented or borrowed on-site.
Drivable events offer more flexibility in what you can bring with you, as you can pack as much as space allows, though if you're carpooling, space may be limited.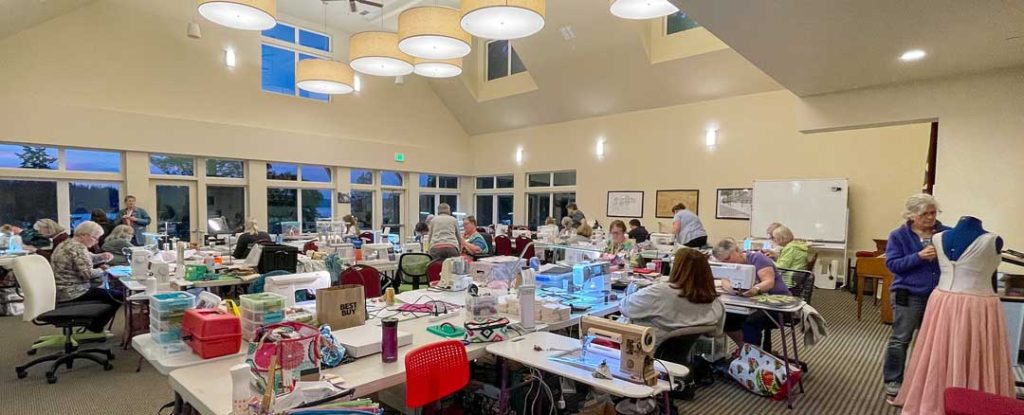 What is provided at the destination?
This could include lodging if it's a far-away location. Can you opt for a single room (usually with an up-charge), or specify a roommate, or are the sleeping arrangements dormitory style? You may have a different comfort level with each of those options.
If lodging isn't included, how close is the nearest hotel or motel to the sewing destination? Is there a shuttle offered between the locations?
What is the plan for meals? Is food provided by the host, or does everyone take turns cooking for the group, or do you just fend for yourself for each meal? If it's the latter, does the location have individual cooking facilities, and how close is it to restaurants and markets? Restaurant outings for all meals can add a considerable amount to the cost of a retreat.
It's very likely that tables and chairs are provided in the destination sewing area, but what about cutting mats, mirrors (for fitting if you're making garments), irons and ironing boards? Perhaps there are bulletin boards or design walls available, if needed. Sewing space may be limited, so check what your actual space and table size will be so you can judge how many things to take.
Of utmost importance could be proximity of the nearest fabric store. Not only to acquire something you might have forgotten or run out of, but also in case someone else's project inspires you.
It seems that most sewing retreats always have a large snack table. It's hard not to stop on your way to the ironing station or coffee pot, but keep in mind that you'll likely be there for several days, so show moderation. Or, promise yourself to stick with fruit, nuts, etc., with only an occasional sugary indulgence.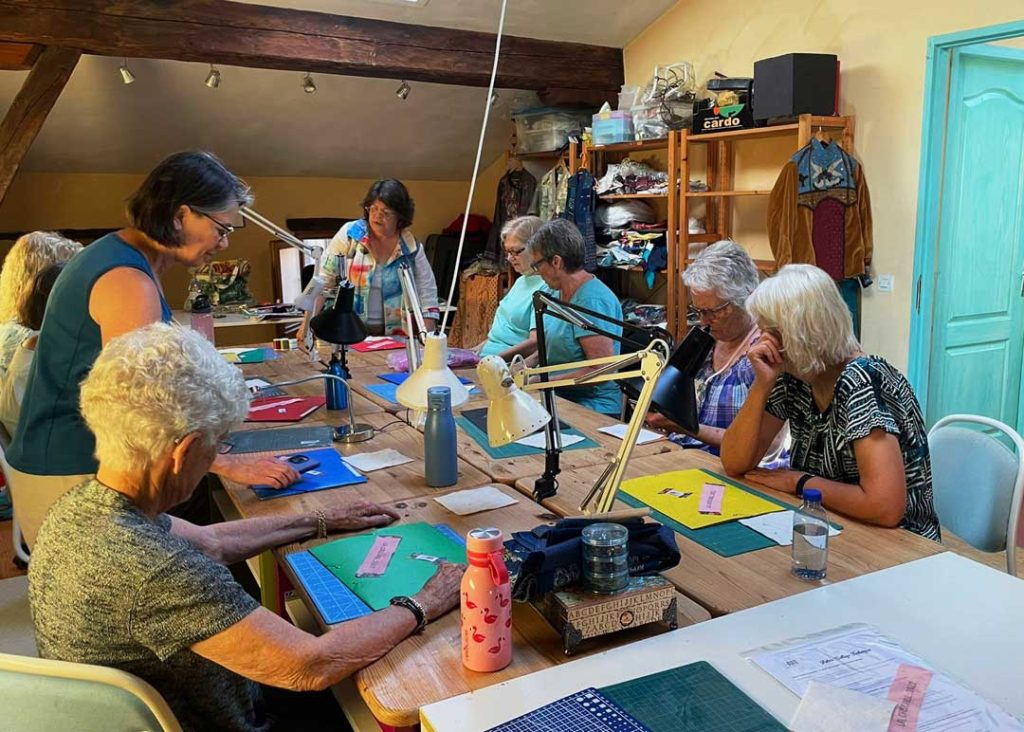 What is the format of the retreat?
Some get-aways are structured around a specific topic, like fitting, a single garment pattern or a mystery quilt, while others are a free-for-all and everyone sews whatever they want. If it's a single project, often kits are provided for participants—perhaps included in the retreat fee, or for an additional fee.
For retreats featuring a noted teacher, there may be a scheduled time when he/she is demonstrating a specific technique, so be sure you know the timetable and plan accordingly to keep up with lessons.
Are there designated sewing times, or do you simply have access to the sewing area 24/7, like with an individual key to the room?
What else is there to do nearby?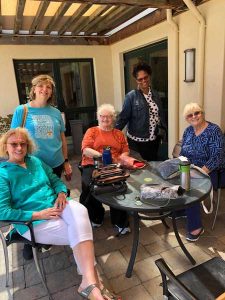 Although most of us are excited to be able to sew uninterrupted 24/7, sometimes you just might need a break—like a walk on the beach or a stroll through a summer garden. Or for some, shopping at quaint shops or an outlet mall. Be sure you know what's near the retreat location if you need a diversion.
Making memories and new friends at sewing retreats is priceless, so check online to find one that entices you to get away!
---
~Linda Griepentrog is the owner of G Wiz Creative Services and she does writing, editing and designing for companies in the sewing, crafting and quilting industries. In addition, she escorts fabric shopping tours to Hong Kong. She lives at the Oregon Coast with her husband Keith, and three dogs, Yohnuh, Abby, and Lizzie. Contact her at .