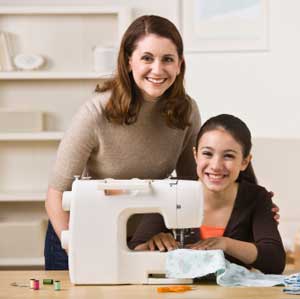 This story is by Hope Wright from ASG Springfield Lincolnland Chapter
I taught a Summer Sewing Camp this year and when I went to the school for start of sign up, one teacher's aide expressed some regrets that she never learned to sew. I told her that if she could drive, she could learn. That was based on my opposite experience — since I could sew, it was pretty easy to learn to drive. Just had to remember to step on the brake, not just lift the foot from the pedal! Since then, I've been thinking of comparisons.
For Adults: If you can drive a car you can learn to sew.
For Kids: If you learn to sew, it will be much easier to learn to drive when you are older.
Using a sewing machine is like driving a car:
Both have a start switch, although a key isn't needed with a sewing machine.
Although you can leave them running when you aren't in the driver's seat, it isn't a good idea. (especially be sure to unplug irons!)
You have to figure out the purpose of all the buttons and levers on the sewing machine, like all the buttons and levers on a car – and every model can be different so you have to figure it out for a different sewing machine as well as a different car.
You have to steer the fabric just like turning the steering wheel. Continual adjustments are needed, and eventually many of them will become automatic.
The more you press down on the foot pedal the faster it will go, up to where the pedal is to the metal/floor.
You have to figure out where to look to be able to go where you want to go. Keep your eyes on the feet/fabric, not the needle, just like you keep your eyes on the road, not the hood.
You can't be distracted — you could sew through your finger or have an accident.
There are times that it is boring, but you have to stay alert or you could sew through your finger or have an accident.
You have to plan ahead to know where to turn your fabric or change lanes.
Sometimes you have to make corrections, either unpick some stitching or make a detour.
Preparation is needed for both. For sewing, you have to to select and cut out the project. For driving, you have to plan your route and make sure you have your driver's license, etc. before you leave home.
Both need to go to a mechanic for oil changes and repairs at regular intervals or when something quits working.
You can spend lots more for extra "stuff" and for flash, but there are economical changes you can make.
Both have practical uses that will save money, like repairing and upcycling clothes or traveling without taking a bus or cab.
Both have fun uses – exercise your creativity and artistic skills, or take a drive to enjoy the scenery.
The more you sew or drive, the easier it gets — practice is important!
What is different about it?
If you take your foot off the foot pedal of a sewing machine, it will stop. To stop a car, you have to step on the brake.
You don't have to watch out for others who might sew in to you or that you might sew in to.
There aren't very many "rules" in using a sewing machine; certainly nothing that will get you arrested!
You can sew at a much younger age than you can drive. And you will probably be able to sew long after you have given up driving.
Driving creates memories, but sewing gives you something tangible to show, wear, use, or give.
---
© Hope Wright, ASG Springfield Lincolnland Chapter