Bias Tape
Q. Why does bias tape have diagonal seams?

A.  Bias tape has diagonal seams to reduce bulk, pure and simple. Since fabric has a limited width, seaming is necessary to create continuous bias lengths. If the strips are seamed together with straight seams, then when the bias is folded in half, all the seam allowances are on top of themselves creating a "lump." By seaming lengths together diagonally, the seam allowances are offset, making for a flatter application.
---
Shop Hop
Q. I keep hearing friends talk about a shop hop, but I don't know what it is. What is this mysterious adventure?

A. A shop hop is an event organized by many fabric store owners in a region who cooperate together for one cause—enticing consumers to visit. Shop hops are usually sponsored by quilt store owners, but sometimes other fabric stores join in the fun.
A map of participating stores is available and often there's a "passport" to get stamped by the stores you visit; it's collected at the last store and entered into a prize drawing. In the case of quilt store shop hops, individual stores may offer an exclusive block pattern and/or kit that becomes part of a quilt when combined with all the other stores' blocks. Non-quilt stores may offer project patterns or kits—like a tote bag or other small item. Participating shops generally showcase new fabric groupings and offer in-store special events, like product demonstrations, treats, etc.
Some shop and blog hops are now online, so you "hop" between fabric shops or blogs virtually—a way to scope out new resources that may not even be in your geographic area—in fact, they can be anywhere in the world!
---
Ease Pleat
Q. What is an ease pleat?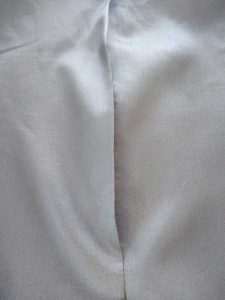 A. An ease pleat is usually found at the center back of a lined jacket. It's extra space allowed for fitting ease, as its name suggests. The pleat may be only on the upper portion, across the shoulders, or it may extend the entire jacket length to allow wearing ease at the waist and hip as well. The pleat is open except at the upper and lower areas where it attaches to the jacket facing and hem. Most patterns for lined tailored jackets include an ease pleat on the tissue so no pattern adjustment is required to include this feature.
Sometimes the term is also used to refer to a bit of extra lining length at the jacket and sleeve hem areas—both allowing the wearer to put on the jacket easily without pulling on the lining. When the ease pleat is in this location, it forms a pleat over the hem area, but the fabric is attached at the upper edge hem edge.
---
Reusing Ties
Q. How can I use old ties for my sewing projects?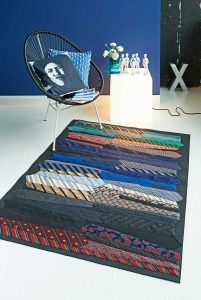 A. Ties are a fun source of quality fabric—often silk—and they're readily available from friends and at local thrift stores. Many sewers use ties in their projects as a way to remember loved ones.
Ties are cut on the bias and seamed once or twice to make the requisite length. On the inside of ties is one or more layers of interfacings which can also be reused for other projects.
Neckties can be used "whole" without disassembling and can be appliquéd, or the shape can be used as-is. Some people like to take them apart and repurpose the fine fabrics they're made from. Before you reuse ties, check for stained or discolored areas and treat them, or discard those portions of the fabric.
Carefully remove the long stitching line from the tie underside, un-stitch the label and save for another project. Open the tie once all the innards are removed and press, being careful not to stretch the bias fabric. Seams may be removed if desired, but often they're left in place. Ties make great bias trimming—just cut the lengths needed for your project.
The fabric garnered from a tie can be reused in any way you wish—from tree skirts to tote bags, pocket flaps, welt pocket lips and all kinds of bindings.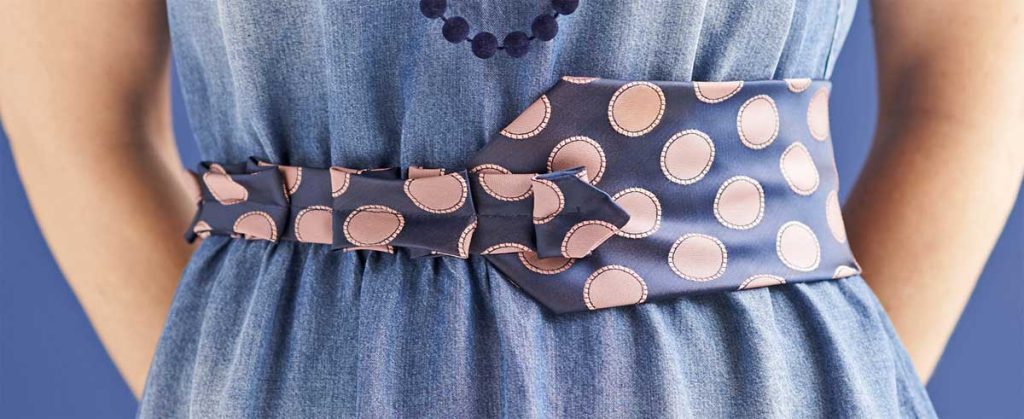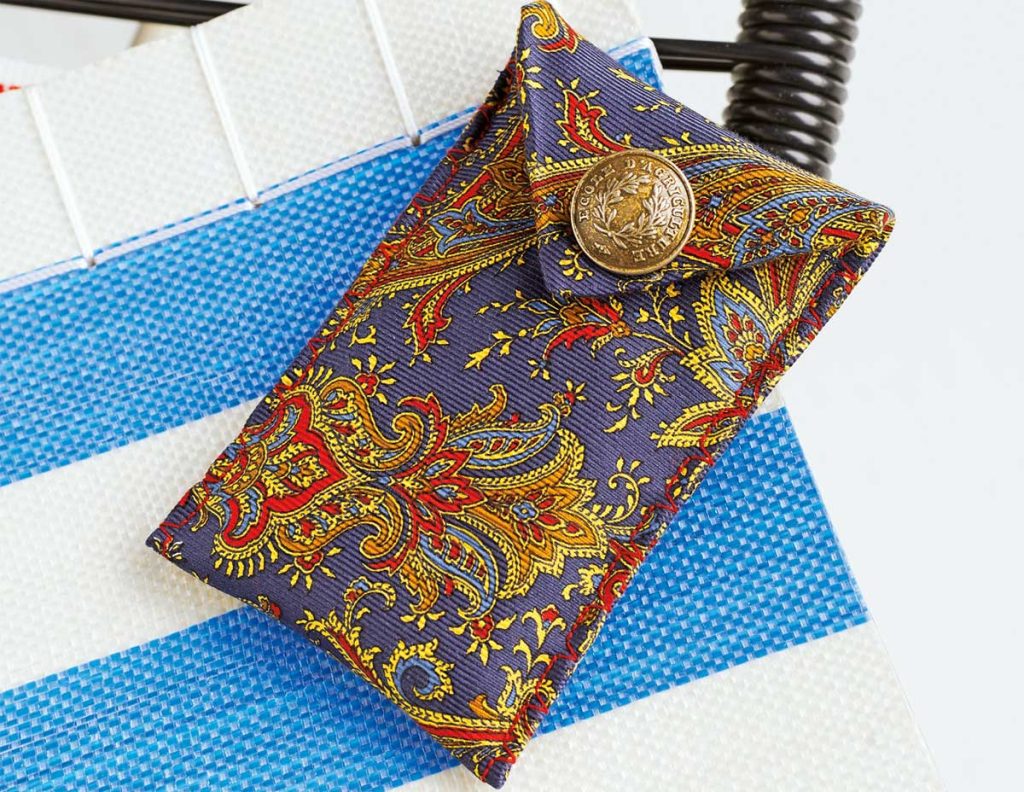 ---
~Linda Griepentrog is the owner of G Wiz Creative Services and she does writing, editing and designing for companies in the sewing, crafting and quilting industries. In addition, she escorts fabric shopping tours to Hong Kong. She lives at the Oregon Coast with her husband Keith, and three dogs, Yohnuh, Abby, and Lizzie. Contact her at .