Q: As I get older, my eyesight is declining and I'm having more and more trouble threading my machine's needle. Any ideas?
A: Most newer machines have built-in needle threaders, but if your machine doesn't, there are other options. Try using a fine needle threader, like those used by hand sewers. Note the direction your machine threads, as it may be necessary to remove the presser foot for better access to the needle's eye.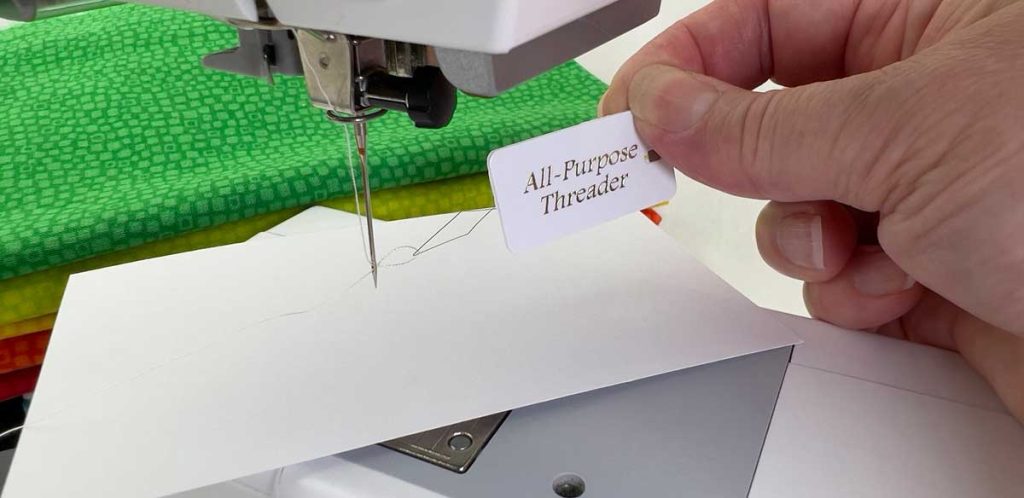 Anytime you thread a needle, have a contrasting color behind the needle eye can be helpful. For a dark thread, use a white or light-colored paper; for a light thread, use a dark background.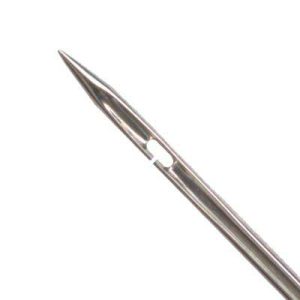 Another option is trying a Quick Threading Needle by Schmetz. This specialty needle has a slotted eye, so that you can draw the thread over the slotted area on the needle's right side and it will slide right into the eye. The needle is compatible with many fabrics and comes in two sizes, 80/12 and 90/14, depending on your fabric weight. There are two cautions when using this special needle—the slot can snag delicate fabrics, and it shouldn't be used for quilting as the slot edges can pull batting fibers to the quilt surface. As with all sewing, the needle size should be appropriate to the thread size—too fine of a thread can slip out of the slot, and too heavy of a thread may fray or break.
---
Q: I take very early morning walks with my dog, but would like to improve my visibility while walking along well-traveled roads. What can I do?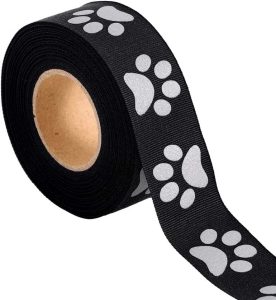 A: To become better noticed in trafficked areas, retroreflective trims are perhaps the best option. These trims glow when exposed to light, like car headlights and streetlights by actually reflecting the source light. The sew-on trims are available as bands, ribbons and a variety of shapes that you can appliqué onto your outerwear. Some trims are available with adhesive backing for easier attachment to an already finished garment.
If you're making the outerwear, put the trim on during construction, but if your jacket is already made, you can still add it either by hand or machine. Critical areas include the chest and shoulder areas, front and back, as these offer the biggest expanse for reflection. Trim down the side of pant legs is another easy to create option.
Don't forget your pup when adding this safety feature—add reflection to collars, leashes and jackets/sweaters.
---
Q: I just treated myself to some new sewing scissors. They were kind of expensive, so I want to be sure I take care of them so they last a long time. How's the best way to do that?
A: If your scissors came with a case, keep them stowed when not in use. If you don't have a case, you can easily make one that covers just the blades or the entire scissor.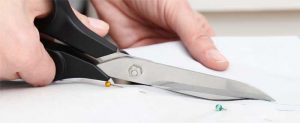 Keep the scissors in a clean, dry place. If you live in a humid climate, store with a small pack of silica gel to help prevent rust.
Use your good scissors to cut fabric only—not paper or other crafty materials. If you have other family members who might be tempted to misuse them, add a label to the scissor handle indicating their single use, or hide them when you're not using them.
Never cut over pins—that mistake is a quick way to ruin their cutting finesse. Pins should always be placed inside (or outside) the cutting line.
Try not to ever drop your scissors. Not only can the cutting blades be damaged, but they can also be forced out of alignment. For extra safety, put them on a lanyard or neck ribbon.
Maintain your scissors regularly. Wipe the blades to remove lint, and if the manufacturer recommends it, add a small drop of light oil (like you use on your sewing machine) to the pivot point. Work it into the joint by opening and closing the blades several times and then wiping off any excess.
Not all types of scissors can be sharpened, so use them only for their intended use to extend their lifespan. If they no longer cut fabric well, and they're not able to be sharpened, relegate them to craft use.
---
~Linda Griepentrog is the owner of G Wiz Creative Services and she does writing, editing and designing for companies in the sewing, crafting and quilting industries. In addition, she escorts fabric shopping tours to Hong Kong. She lives at the Oregon Coast with her husband Keith, and three dogs, Yohnuh, Abby, and Lizzie. Contact her at .