Sewing reversible garments is a practical idea and can be a fun and creative way to add versatility to your wardrobe. They can also help you to save space in your suitcase when traveling.
Making Choices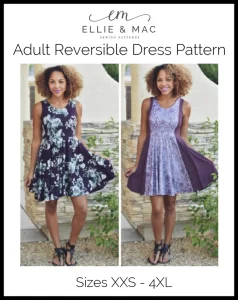 Coats and jackets are logical choices, letting the collars and rolled back cuffs show off the contrast fabric. Vests are also easy to do in two different fabrics. Simple dresses, tops, and skirts are perfect for summer. Skirts can be wrap-style or have a shared elastic waist. Look for patterns that are made to be reversible; however, if you can't find a "reversible" pattern, look for one with simple style, minimal seams and details, and try to avoid anything with complicated details.
When choosing fabric, shop for ones with a similar weight, drape, and stretch for both sides. Choose fabrics that are not too bulky or stiff as this can make the garment uncomfortable to wear or difficult to sew. Drape both fabrics over your hand to feel the weight and make sure it won't be uncomfortable to wear. As an alternative to two solid colors, try a solid with a print, or even two compatible prints for an especially interesting look. You could also choose fabrics that have different textures or prints on each side to add interest to your garment.
Cutting & Techniques
Cut both layers exactly alike and unless your pattern is specifically made to be reversible, trim hems to 5/8." Do any embellishing, and add details such as pockets, prior to construction. Depending on the weight of the fabric and fit of the pattern, you may need to add a little to the seams.
Plan your construction carefully to ensure that your seams and finishing techniques work for both sides of the garment. It helps to consider which side you want to be the primary side and work from there.
You'll need to use techniques that allow the garment to look good on both sides. For example, French seams or flat-felled seams are great for joining two layers of fabric without any exposed raw edges. You could also use bias binding or facing to finish off the edges.
Construction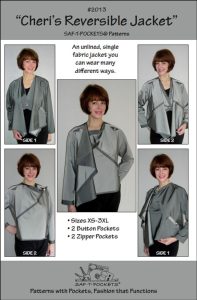 To accomplish the reversibility, select one of two methods of construction: right sides together and turned inside out, or wrong sides together and bound on the edges.
For the first, sew layers together, being very accurate in aligning raw edges. Leave an opening of about 8″ in the middle of one side seam or along the bottom back hem. Trim and grade seam allowances to eliminate bulk between the layers. Reach up and pull everything through the opening to right side, and then press carefully. Slipstitch the opening and topstitch all around for crisp, even edges.
For the second method of construction, join the two layers with wrong sides together, carefully matching raw edges. Finish inside seams with any technique that looks neat on both sides, such as flat fell or French. Trim away seam allowances on the outside edges and hems, baste together, and finish all around with bias binding or fold over braid. For casual styles, decorative serging is another option.
If they work for you and your pattern, add soft shoulder pads that can flip in either direction, tacking them between layers. Instead of buttonholes, consider button and loop closures, using different buttons.
If you are making a reversible jacket or coat, consider using reversible zippers or buttons to make it easy to wear the garment inside out. These zippers or buttons are designed to work on both sides of the garment, making it easy to switch between the two.
Overall, sewing reversible garments can be a fun and rewarding project. With the right fabric, stitches, and techniques, you can create a versatile and stylish piece that you can wear in multiple ways, and on multiple days!
---